Tablets are perfect alternatives to laptops and desktops especially when on the go. While most tablets can't match laptops in terms of performance or multi-tasking, they are great back-ups.
If you're looking for a budget-friendly yet quality tablet, then you have access to a variety of options to choose from. Among other features and considerations, the operating system and the screen size are high up on the list.
We found a couple of tablets powered by different operating systems and packing various impressive features. Because these are budget tablets under $100/$200, you'll have to compromise a little on the specs. Even so, some are too good for their price.
Features to Consider in Cheap Tablets
Screen Size & Resolution
When choosing the screen size, it boils down to how you'll be using the tablet. If portability trumps all else, then a smaller screen would be perfect. If usability is key, then choose a tablet with a larger screen size that allows you to view content at and operate on the onscreen keyboard with little hassle.
Tablet screen sizes range from 7 – 13 inches. Go for the 7-8 inches tablet if you want something that can easily fit in your palm or in the pocket. You can browse and read eBooks on such a device.
For TV shows and movie watching, tablet 10+ inches tablet will provide the best immersion. Such a tablet can also be used for business purposes like viewing business reports and spreadsheets.
Then there's the resolution. The screen resolution and panel will strongly influence the sharpness, viewing angles, vibrancy as well as color accuracy. Some tablets have display resolutions as high as 2560×1600. And tablets with high-resolution IPS panel displays deliver stunningly sharp images.
Storage Capacity
This is the internal storage that your tablet has to hold your files such as images, music, videos as well as documents. Often times, windows and android tablets offer expandable storage capacities.
The amount of internal storage will determine the number of apps you can install. So where possible, go for at least 16GB of internal storage.
If an expandable external memory matters, then you need a device capable of supporting a microSD card. Some tablets come with dual USB ports that you can use to hook in an external disk for additional storage space.
Operating System
Although almost all the four major operating systems used in tablets have significantly improved in quality, the OS is still an important feature to look at.
If you're looking for the processing power of a Windows laptop, then a Windows OS tablet is an excellent option. iPads use Apple iOS and are best for those who own an iPhone.
Google Android is inarguably the most popular and is constantly evolving. Android tablets support a multitude of android apps. Compared to iOS, Android is more customizable and is the same OS used by most smartphones.
Fire OS is another operating system based on Android developed by Amazon for its Fire Phone and it Kindle Fire tablets.
We can't leave out the Chrome OS, which, although relatively new, will most likely spread like a wildfire. And since Chrome OS laptops have been successful, we expect Chrome OS tablet to follow suit.
Processor & RAM
For a tablet to power and run functions, the processor has to chip in. RAM is the memory of the tablet and will determine how well it will run the various programs installed.
For the basic tasks, a tablet with a single core processor is okay. Tablets built with duo core processors deliver faster and smooth performance. If you want to run sophisticated tasks and programs like advanced gaming and video editing, then the tablet has to build with a quad-core processor.
Connectivity
Well, all tablets can connect to the Wi-Fi and have Bluetooth that's a no-brainer. But it's not always that you'll be near a strong Wi-Fi signal. As such make sure it's a 3G-enabled tablet with a SIM card slot so you can connect to the internet.
If you can find a budget tablet with USB and HDMI ports to transfer files and connect to other devices, then pick it.
Battery Life
Tablets are meant to be carried around and that's also what motivates us to purchase them. Browsing and video use drain lots of power.
If you multitask heavily, say watching videos and playing games, the battery life will be shorter than advertised. Basically, a tablet with 8 hours of battery life with extreme gaming and video playback is quite okay.
Cameras
We love to take occasional photos or record videos now and then and you'd be doing an immense disservice to yourself if you forget to check the camera. A tablet should have a quality front-facing camera and a rear camera.
Keyboard Compatibility
Some tablets feature USB ports that make it possible to attach an external keyboard and other peripheral devices. A Windows OS tablet with a detachable will work just like a laptop replacement.
There those tablets that can't support external keyboards but come with enhancements to enhance the typing on an onscreen keyboard. Such tablets integrate a feature called Swype, which, upon practice makes the typing simple easier, faster and effortless.
Best Cheap Tablets Under $100

Why we like it:
The screen resolution renders sharp and brilliant visuals. The Multi Window feature is revolutionary.
Editor's Rating:
Design features
Powered by Android 4.4 Kit Kat OS, Samsung Galaxy Tab 4 is built with 1.2GHz Qualcomm processor. And together with 1 GB RAM, the tablet is powerful enough to run apps with zero lags.
It also has an 8GB internal memory that provides enough space for all your apps. Thanks to the integrated microSD card slot, you can expand your files storage space up to 32GB.
Samsung Galaxy Tab 4 has a 7-Inch WXGA display with a 1280×800 resolution to deliver vivid details for your photos and videos. Enjoy rich graphics, brilliant colors, and crisp text.
Measuring only 0.35 inches thick and weighing 0.62 pounds, this tab is lightweight and compact enough to slide in your pocket or fit in your palms wherever you go.
Samsung Galaxy Tab 4 has a 3MP rear camera and a 1.3MP front-facing camera that you can use to capture moments and video chat with those who matter most to you.
Convenient features
We all love multitasking. Use the Multi Window feature to display to apps side by side. It's even possible to drag content from one app to the other.
Samsung Galaxy Tab 4 can work as a tablet for the entire family. Use the Multi-User Mode, create up to eight profiles and log-in independently whenever to access your individual apps and content.
It also comes with Kids Mode that allows you to create a profile for the children so that easy to control so you can track their activities.
Also integrated into the tablet is an inbuilt IR-blaster. With this feature, you can use your tablet as a universal remote control for your TV and stereo.
The tablet supports 802.11a Wi-Fi protocol that allows you to stream your favorite shows and videos. Share data and files with other files using Bluetooth.
Verdict
Samsung Galaxy Tab 4 is an excellent tablet for the entire family thanks to its innovative Multi-User Mode.
Pros
Delivers stunning visuals

Innovative Multi Window feature

Multi-User Mode

Compact, portable & lightweight

Why we like it:
It's a phone-tablet combo with unlocked network connectivity. The phablet IPS display delivers sharp and detailed visuals.
Editor's Rating:
Design features
If you're looking for something that packs the features of a tablet and a phone, then this 10-Inch Android phablet will come in handy. Enjoy stunning, crisp and detailed visuals for your movies and games on a 10-inch HD 1280×800 IPS display.
The tablet employs Tablet Android 6.0 Marshmallow OS and is built with 1.3GHz MTK6580 Quad-Core Processor. Add that to the 1GB RAM and you'll be in for a solid performance tablet capable of handling different tasks.
What's more, this phablet comes with 16GB internal storage enough for your apps and a couple of files. Use the integrated microSD card slot to expand the memory up to 32GB for more storage space.
The tablet has unlocked network connectivity. With the inbuilt 2G and 3G modules, it'll support both the GSM and WCDMA networks from any service provider.
It comes with inbuilt dual cameras. Capture your best moments using the 2MP rear camera and make video calls with the front-facing 0.3MP camera.
Convenient features
10-Inch Android phablet comes with 1-USB port perfect for connecting to other devices. It also features a stereo jack for amplifying the sound of your music or movies.
Besides, this innovative tablet-phone combo supports Bluetooth 4.0 and Wi-Fi standard 802.11b/g/n so you can send files and stream your videos smoothly.
The built-in loudspeaker will amplify the sound of your movies. It also has a microphone that will come in handy when creating your own videos.
What's more, the tablet comes with a rechargeable lithium-ion battery that can last up to 4 hours between charges. The battery is somewhat a let-down.
Verdict
Except for the lousy battery and Wecool 10-Inch Android phablet is a pretty solid device that combines the features of a phone and a tablet in one device.
Pros
Network unlocked tablet-phone combo

3 SIM Card Slots

MicroSD card slot for expanding the memory

USB port and Stereo Jack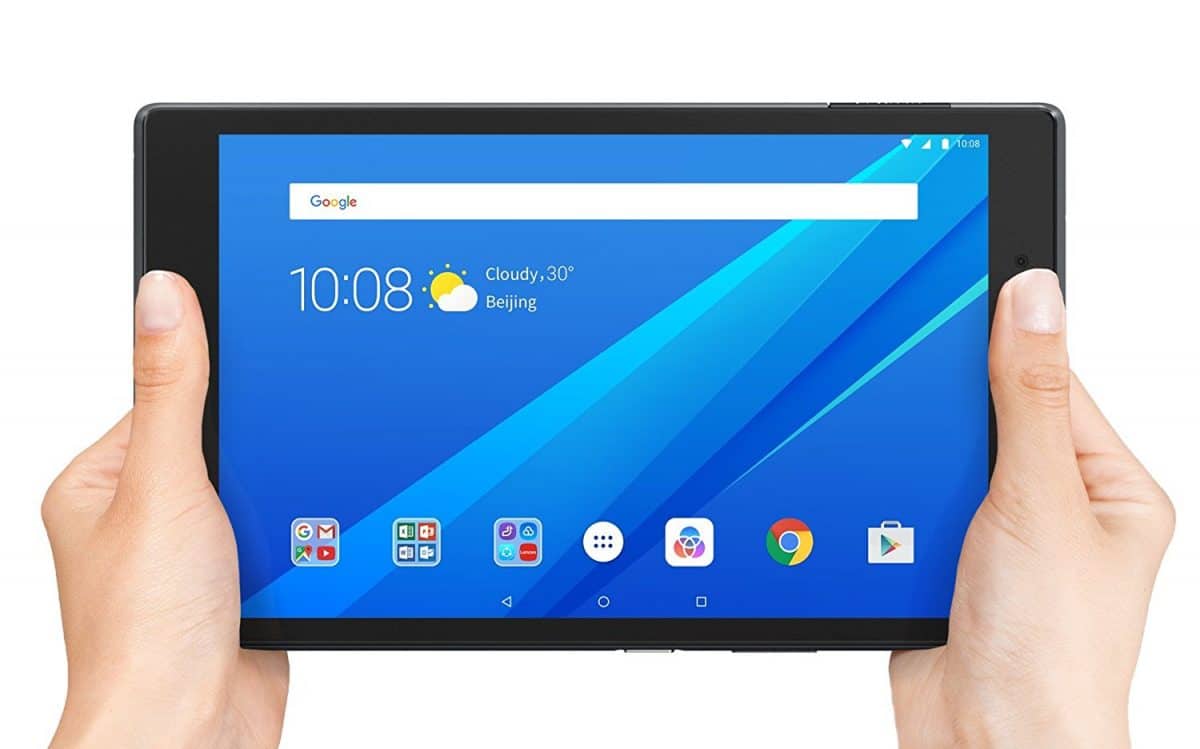 Why we like it:
The stunning HD display plus the multi-account function will definitely catch your attention.
Editor's Rating:
Design features
This Android 7 Nougat 8-Inch tablet is a smaller and cheaper model of Lenovo Tab 4 10-Inch that we reviewed earlier. It packs a compact sleek design measuring 8.2mm thickness design and weighing a mere 310 grams for portability.
With the 8-Inch HD 1280×800 resolution display, you're steps away from enjoying stunning, vibrant and color-rich photos and videos.
Lenovo Tab 4 8-Inch has been built with 1.4GHz 64-bit Quad-core Snapdragon Processors that guarantees solid performance. It also features 2GB RAM so it can handle the rigors of every day without hitches.
The tablet has 16GB internal storage for storing your files. It also comes integrated with a microSD card slot that you can use to expand the storage capacity.
Inbuilt into the tab is the hot Dolby Atmos speakers that ensure Lenovo Tab 4 8-Inch delivers immersive sounds for your TV shows and YouTube Videos
Convenient features
Lenovo Tab 4 8-Inch is a tablet for the entire family. Take advantage of the multi-user and multi-space capabilities to create multiple user profiles so you can share the tablet.
Convert it into a kids tablet with the Lenovo Kid's Pack that comes complete with awesome stickers, blue light screen filter as well as a shock resistant bumper.
Use the Alexa Home Assistant Pack to manage your time without a lifting a finger. With your voice only, you can ask Alexa anything from the weather to the news.
Verdict
Well, the screen size is a little small, but Lenovo Tab 4 8-Inch is an excellent device for the entire family.
Pros
Multi-User & Multi-Space capabilities

High quality sound speakers

MicroSD card slot

Excellent 20 hours battery
Cons
16GB Internal storage low

Why we like it:
The IPS LCD HD display outputs eye-popping visuals for your photos as well as video.
Editor's Rating:
Design features
Powered by Android 5.0 Lollipop, Samsung Tab A 7-Inch is built with 1.3GHz Snapdragon Quad-Core Processor that delivers solid performance. Coupled with the 1GB RAM, the tablet will come in handy in your daily tasks.
Samsung Tab A 7-Inch has a 7" HD (1280×800) IPS LCD touch display that delivers bright, colorful images and crisp text.
It comes with 8GB internal storage (slight low for a tablet), but okay considering it a budget device. Fortunately, it has an in-built microSD card slot that makes it possible to expand the memory so you can store videos, music and document files.
The tab has a lithium polymer battery installed that can last up to 13 hours. Get seated browse and entertain yourself for hours before the next recharge.
Convenient features
Samsung Tab A 7-Inch packs a sleek, robust yet lightweight design. Weighing only 1.1 pounds, you can carry your tab anywhere, check your emails, browse the internet and navigate social media at your leisure.
It also supports 800.1b/g/n Wi-Fi standard perfect for browsing, sending files and streaming videos and TV shows wirelessly. Share data and files via Bluetooth.
Verdict
If you're on a budget and can't afford the 10-inch tablet model, Samsung Tab A 7-Inch is an excellent alternative.
Pros
Outstanding IPS LCD display

Long-lasting 13 hours battery

Solid built yet lightweight

Integrated microSD card slot

Why we like it:
It has a detachable keyboard perfect for the time you want to do some serious working that involves lots of typing.
Editor's Rating:
Design features
Featuring 10-Inch IPS LCD HD (1280×800) display, RCA Viking Pro Tablet will provide sharp and crisp images for your photos and videos.
RCA Viking Pro Tablet uses 1GHz MediaTek MT8127 Quad Core processor. It has a 1GB RAM which we wish was higher.
It's powered by Android 5.0 Lollipop OS. And with 32GB internal memory, there's enough capacity for multiple apps as well as a couple of files. Expand the memory with the incorporated microSD card slot.
Integrated are dual camera – 2MP for the rear and the front-facing camera. Capture your moments without a worry.
What's more, the tablet comes with a detachable keyboard that you connect whenever you want to do some serious typing. Simply detach it whenever you want to leave home so it's more portable.
Convenient features
Regarding connectivity, RCA Viking Pro Tablet doesn't disappoint. It has Bluetooth and is Wi-Fi enabled so you can share files and stream your Netflix wirelessly.
It also features an HDMI port for video output and 2 USB ports for hooking more devices. The lithium polymer battery installed will provide up to 8 hours of browsing, listening to music and streaming YouTube and TV shows.
Verdict
Although the RCA Viking Pro Tablet has a relatively disappointing 1GB RAM, it's still an excellent tablet deal considering it's a budget tab under $100.
Pros
It's a 2-In-1 tablet

MicroSD card

Has HDMI & USB ports

Impressive 32GB internal memory
Best Cheap Tablets Under $200

Why we like it:
Pretty much almost everything about the tablet. The display resolution, the Alexa feature and the overall tablet performance are top-notch.
Editor's Rating:
Design features
Packing a stunning 10.1-Inch Full HD 1080p (1920×1200) LCD IPS display, Fire HD 10 Tablet delivers brilliant visuals.
Enjoy your favorite shows on Netflix, Amazon Video, HULU and more in 1080p Full HD widescreen. Read your eBooks comfortably at night with the Fire OS exclusive Blue Shade feature capable of adjusting as well as optimizing the backlight for maximum comfort.
Fire HD 10 Tablet is built with 1.8GHz quad-core processor and 2GB RMA that guarantee the apps launch fast, games run smoothly and the overall performance is incredible.
The tablet features an internal storage of 32GB or 64GB enough for your applications. Even better, if you want more space for your music and videos, Fire HD 10 Tablet comes integrated with a microSD card slot so you can expand the storage up to 256GB.
It also comes with a 2MP rear-facing camera that you can use to capture photos or record 720p videos. Use the front-facing VGA camera to make video calls with family and friends.
What's more, Amazon Fire HD 10 Tablet comes with a long-lasting battery. Carry the tablet anywhere you want and enjoy up to 10 hours browsing the internet, streaming online or playing games.
Convenient features
Fire HD 10 Tablet also comes equipped with Alexa. If you're connected to the Wi-Fi, simply ask Alexa questions and it'll display visual responses to some of them.
Using your voice only, you can instruct Alexa to accomplish certain tasks such as setting the timers and checking the traffic. Looking to watch a movie or listen to your favorite track? Simply say the magic word and thy will shall be done.
With Alexa on your Fire 10 tablet, you can use your voice to control almost all the appliances and electronics in your home. Set the thermostat or dim the lights without lifting a finger. Call and message using only your voice.
Although it's built with a tough plastic back shell, Fire HD 10 Tablet is compact and lightweight weighing only one pound and has a battery that can last up to ten hours. Carry it with you as you go about your business.
It also supports the fastest and newest 802.1ac Wi-Fi standard so you browse and stream wherever there's signal.
Amazon Fire HD 10 Tablet also comes with USB 2.0 port for charging and connecting to the computer. Integrated too is a 3.5 stereo jack as well as dual stereo speakers complete with Dolby Atmos Audio.
Verdict
Fire HD 10 Tablet is quite a quality tablet and is definitely worth every penny. It'll not disappoint.
Pros
Quality Full HD 1080p LCD IPS panel display

Alexa enabled

Long lasting 10 hours battery

Excellent size, robustly built yet lightweight
Cons
Tablet case sold separately

Why we like it:
We love that it's lightweight and has an advanced 8MP camera for capturing and recording high quality images and videos.
Editor's Rating:
Design features
Apple iPad Air 2 packs a tough, thin, lightweight and sleek design and boasts an HD (2048×1536) 9.7-inch LED-backlit IPS panel display.
The screen comes covered with an oleophobic coating, which ensures you don't leave your fingerprints. And so you can read and watch videos without eye strain and fatigue, its screen has been treated with an antireflective coating.
Built with an A8X chip with 64-bit architecture, Apple iPad Air 2 commands 1.5GHz motion 8 Coprocessor and a 2GB RAM. These two properties help the tablet run multiple apps and other functions without lags.
Apple iPad Air 2 comes equipped with a superior 8MP camera featuring sophisticated optics. The camera has an image sensor as well as a signal processor that delivers sharp and detailed imagery each time.
What's more, the tablet comes with a FaceTime HD Camera featuring face detection capabilities and which captures and record auto HDR 1.2MP photos and 720p videos.
Equipped with a fingerprint identity sensor built into the Home Button, Apple iPad Air 2 guarantees the security of the content store inside.
Convenient features
Apple iPad Air 2 comes with a lithium polymer battery that'll provide enough power to last up to 10 hours binge-watching your movies on Netflix or playing games. Carry your iPad with you anywhere you go and entertain yourself without being tethered down by a power cable.
The tablet supports 802.11a/b/g/n/ac Wi-Fi standard. Connect to the Wi-Fi and stream your favorite Netflix shows and videos on YouTube. It also includes an Apple SIM Card usable in both the US and UK if you want to make calls or browse when the Wi-Fi is not in range.
Apple iPad Air 2 also has 16GB of flash memory which provides space for your apps and as well as a couple of your files.
Besides, Apple iPad Air 2 comes integrated with Bluetooth 4.2 technology that makes it possible to pair with other devices for data sharing.
Verdict
Other than the lacking USB port and an SD card slot, Apple iPad Air 2 is a premium quality tablet worth your time.
Pros
Built with a robust and powerful processor

Advanced quality camera

Impressive 10 hours battery

Fingerprint sensor for enhanced security
Cons
Lacks USB ports, or SD card slot

Why we like it:
Everyone loves a tablet with Alexa. The ability to hook a keyboard via Bluetooth? Heavenly.
Editor's Rating:
Design features
With a 10-inch stunning HD 1280×800 resolution display, Lenovo Tab 4 is about to grant the photos you capture a vibrant feel. And when you get down to entertainment, it delivers color-rich videos.
Powered by Android 7.1 Nougat operating system the tab is built with a 64-bit Quad-Core Snapdragon Processor up to 1.4GHz and has a 2GB RAM, which ensures it can handle day to day tasks. The tablet will run programs smoothly without lag.
Also, it has 64GB internal memory enough storage for the programs as well as a couple of files. Integrated too is a microSD card for more storage space.
Lenovo Tab 4 comes integrated with the hot Atmos Dolby Audio. Not to mention the inbuilt dual-stereo front-facing speakers for that immersive entertainment experience when streaming your TV shows, videos and playing your favorite tracks.
Convenient features
With the Alexa-powered Home Assistant Pack, you can use the command of your voice to ask trivia questions like the time, weather and even play music all hands-free.
Lenovo Tab 4 uses Bluetooth 4.0 for connectivity. Pair an external keyboard with the tab via Bluetooth and convert it into a 2-in-1 tab. It also has USB type C and is Wi-Fi enabled.
Want to get some serious work done? Then take advantage of the multi-user and the multi-space functionality to switch to the Productivity Mode.
Even better, you can transform the tab into a kid's tablet. Just add a shock resistant bumper plus the screen stickers and enable the blue-light screen filter.
The tab is robust yet super-lightweight weighing only 0.68 pounds so you can connect to Wi-Fi and stream anywhere you're.
Verdict
Lenovo Tab 4 is an excellent and high-performance tab for the entire family to share up to 20 hours of entertainment.
Pros
Long lasting up to 20 hours battery

2-in-1 tab with a Bluetooth keyboard

MicroSD card slot integrated

Compatible with Alexa Home Assistant Pack
Cons
Internal memory could have been larger

Why we like it:
The Bixby Home is just creative and it's your solution to managing your day better
Editor's Rating:
Design features
Samsung Galaxy Tab A is powered by Android 7.1 lollipop OS, which helps keep apps well-organized and simple to access.
The tablet is built with robust 1.4GHz 8032 Qualcomm Processor and features 2GB RAM, which ensures the apps can run without a hitch.
With a 32GB of internal storage, Galaxy Tab A has enough capacity for your apps. It also comes integrated with a microSD card slot so you can expand the memory up to 256GB providing additional space for your files.
Browse and enjoy your movies on an HD 1280×800 resolution display that looks brilliant in any light. Tune in the blue light filter and keep browsing and watching under the duvet.
The tab comes with 8MP camera complete with a flash and HDR mode so you can snap perfect photos even in low-lit settings. Use the 5MP front-facing camera to video chat with friends and family.
Samsung Galaxy Tab A comes with a powerful battery that provides juice enough to last up to 14 hours of continuous video playback between recharges.
Convenient features
This tablet supports 802.11 a/b/g/n Wi-Fi protocol that lets you enjoy hours of TV shows and video streaming. It also comes equipped with Bluetooth 4.2 for data sharing with other Bluetooth-enabled devices.
Galaxy Tab A also features Bixby Home, a property intelligent to learn your routines. It then serves you with routine news as well as weather updates with just a single swipe.
The tablet is highly portable weighing only 0.79 pounds. Shove in your pocket or carry it in your palms anywhere you go.
Verdict
For the price, the tab is simply a great bargain that won't disappoint. And it would have been better if the screen size was larger.
Pros
Impressive internal memory

Super lightweight and portable

Long-lasting battery

Has a microSD card slot
Cons
Sound quality a little disappointing

Why we like it:
It's 2-in-1 windows 10 laptop-tablet with a detachable keyboard. Perfect when you don't have access to your PC.
Editor's Rating:
Design features
Although slightly new, Wecool 10″ 2-In-1 Windows Laptop Tablet is an excellent tablet for those who love Windows OS on their devices.
Traveling or walking for long? Detach the keyboard and carry only the tablet itself. Attach the keyboard to get some serious work done. It's an excellent alternative for your PC except it's extremely lightweight and portable.
Built with a 1.4GHz Intel Atom Processor plus 4GB RAM, this 2-in-1 will provide enough power to run programs smoothly.
It comes with 32GB internal memory enough to hold all your programs and then some more. Use the microSD card slot to expand your memory up to 128GB for even more storage space for your files.
This 2-In-1 Windows Laptop Tablet has a 10-Inch HD (1280×800) IPS LCD display that delivers brilliant visuals for your photos and videos.
Convenient features
10" Windows Laptop Tablet supports 802.11b/g/n and Bluetooth. Browse the internet, stream your favorite TV shows and pair your tablet with other Bluetooth enabled devices.
The laptop-tablet also comes with a mini HDMI port and 2 USB ports so you can hook other multimedia devices like TV.
Catch your memorable moments and record high quality videos with the 5.0MP back camera. Use the 2.0MP front camera to make video calls with friends and family.
This Windows 10 Tablet comes with a robust 2.8V 6000MAH lithium polymer battery that can last up to 7 hours. Carry the tablet with you and browse the internet, check your emails and read the news without being tethered to wall power outlet.
Verdict
Overall, is a great replacement for your windows PC especially when on-the-go. We're sure you'll love it.
Pros
It's a 2-In-1 touchscreen laptop tablet

Integrated HDMI, USB ports

HD IPS LCD display

MicroSD card slot for expanding storage
Cons
Screen resolution could be higher
Guide to Buying the Best Cheap Tablet
If you watch lots of films, enjoying reading eBooks, surf while in bed and want something light to carry while away on a holiday, then a tablet is your best bet. They're compact, lightweight and have batteries that last longer. We discuss the various factors to consider when on the market shopping for a tablet.
Nature of Use
What are you planning to be doing on this tablet? If you're a college student, then you'll be using the tablet for your everyday applications like sending/checking emails, browsing, social media, and reading documents. In that case, a full-sized tablet with a long battery life and perhaps an external keyboard should suffice.
For casual use at home, a low and midrange tablet should do. But if you want a tablet you can use frequently for watching movies, gaming and more, get a large-sized tablet with high-processing power. If you have small kids, then you might need a tablet with parental controls so you can restrict some content.
Looking for a business tablet? Then you want one that's powerful with sufficient RAM to withstand multitasking and run programs without a hitch. A large screen is good if you'll be viewing things like business reports on your tablet.
Are you a bookworm, a TV shows junkie or a hardcore gamer? You want a tablet capable of running media files smoothly for optimum immersion. A large screen, high resolution, more RAM and audio quality are very integral in this case.
Does Portability Matter?
Want something portable for use on your commute or holiday? It's easy to find mid-sized tablets (7 and 8 inches) weighing under or slightly above a pound. Such tablets are remarkably thin and have a battery life as high as 15 hours. They strike a balance between portability and being able to read.
Your Budget
Although you'll find high-priced tablets costing over 500 bucks, there a couple of cheap yet quality tablets you can find for your budget depending on brand. Some 7-8-inch tablets cost less than $200 or even under $100 for the low-end ones.
However, for the low-end tablets under $100, you're limited in terms of storage capacities, screen size, and resolution.
Tablets with 7-8-Inch display play around just under $200 and are majorly Android. On rare occasions, you'll find tablets with 32GB of internal storage.
Tablets above the $300 market usually come with higher resolutions, large screen sizes, and impressive storage spaces. The larger the screen size and quality, the higher the price.
Design/Form Factor
Would you like a convertible or a standalone tablet? For lack of better description, the standalone tablets assume the design of oversized phones. They're touchscreen, very compact and lightweight.
On the other hand, the convertible popularly known as 2-in-1s are touchscreen and will feature a detachable keyboard. While they'll work perfectly as a standalone tablet, 2-in-1s can assume the laptop design.
The Operating System Still Matters
When buying a tablet, you have four major operating systems to choose from. There's the open platform Android, which is the most popular. Windows and iOS are nothing new. And then there's the new kid on the block – the Chrome OS.
It's prudent to point out the OS is becoming less of a key determinant as the quality of operating systems has improved significantly across the board.
Apps & Content
Each one of us buys a tablet to serve a certain purpose. Perhaps there are certain apps you want to run on the device or connect it to a laptop. Can it support them? And how's the experience viewing particular content on the OS. You want a tablet that's more skewed towards the things you'll be doing every other day.
Wrapping up
Inarguably, laptops have come a long way to enhance portability, but they can never beat tablets. Tablets are lighter and are becoming sophisticated by the day meaning they can support some apps and functions initially meant for the laptops. Some tablets even mimic laptops to include detachable keyboards while others work with external keyboards. They're also remarkably compact, will fit on your palm and accompany you anywhere. We hope you'll find a great tablet that serves your purpose.