Lots of fun can be had with the best cheap airsoft guns under $100 / $200. They can use them in a shooting range or in their back yard to practice shot accuracy and they can feel just as responsive as the real deal. The best part is these types of guns can be affordable. Unlike the real deal, they don't need to come with too much financial strain as they are available at all prices and in all sizes.
One of the best parts about using a cheap airsoft gun is that they can be great learning tools. Those new to airsoft can use them for all types of purposes, from pure airsoft field play to shooting targets for fun. The following options are selected to fit these various purposes.
Best Cheap Airsoft Guns 2021 (Under $100)
On such a limited budget, the airsoft guns are smaller but they are still capable. The BBs can still travel faster than 100 feet per second with these guns and the best part is their reduced size can even see them as practical for users of various heights.

Why we like it:
With a smooth trigger and a large-capacity magazine, this semi-automatic is a class leader.
Editor's Rating:
Design features
Designed to look like a realist rifle, the FN Soft Air Scar is one of the impressive names in its class. It manages to offer all the best parts of a semi-automatic and simple use which comes with the strong trigger.
Both electric and spring designs are available from the manufacturer and they can be used for general purpose BB shooting. In terms of size, the BBs can be varied as well. Officially, the rifle only takes 0.2 BBs. But some users even fit 0.12 BBs in the magazine. This is why a bit of confusion has arisen in terms of magazine capacity.
With its official BB sizes, it takes about 200 BBs in the magazine. Other users have even managed to fit 500 smaller BBs in the magazine. At around 100 BBs, one or two of them are misfires, which is a very good performance at this low price.
Convenient features
The speed of the gun is sufficient for most users. It is not the fastest option in this class but it is certainly one of the guns which takes a lot of BBs. This is why it can be used for learning purposes as well as for general fun shooting various targets.
At 260FPS, a gun is a mid-range option for speed. However, since it takes so many BBs, it can be used to practice accuracy with as many shots as needed. One of the best parts about this semi is that it mains accuracy at close and medium range to the target, which is recommended for many beginners. However, the iron sights might not be the best when it comes to improving this accuracy as they can be high for many users.
Verdict
With large magazine capacity, this semi is one of the cheapest and most accurate options with electric and spring power options.
Pros
Takes hundreds of BBs
Great accuracy with small BBs
Includes battery and charger
Made from hard plastics
Cons
Only suitable for right-handed shooters

Why we like it:
This dual-action CO2 gun can be fired by cocking back the hammer or traditionally by pulling the trigger.
Editor's Rating:
Design features
As one of the most affordable CO2 guns, the Black Ops Exterminator is one of the leading designs for accuracy and practicality. Its top shooting speed sits at around 500 FPS which makes this gun the real deal at an affordable price.
The design of the gun is based on CO2 cartridges and many users report they are actually among the top options for shooting longer rounds. Using the gun is not complicated either. Users simply need to remove the C02 cartridge and screw it back into position. Offering a similar heavier feel to more expensive revolvers, this gun matches its low price with impressive performance.
Convenient features
One of the areas many users are curious about when it comes to cheap C02 guns is their accuracy. But in various tests, this revolver has done remarkably well. Up to 15m, it is one of the sound solutions to make everything easier with on-point accuracy. Small BBs in the 0.2g range can easily travel with speeds up to 500FPS.
However, as with all cheap guns, there are a few drawbacks to consider as well. One of them is the flimsy plastic on the handle. Users will not get the same heavy-duty feel of the handle as with the rest of the gun, which can be an issue, especially when looking for a more realistic experience. But when seeking an affordable revolver, this gun can be one of the most underrated options on the market.
Verdict
Offering a distinct revolver design and high FPS, this gun is a top option for weekend fun for all ages.
Pros
Made with a generally heavy feel
Shoots BBs with speeds up to 500FPS
Allows cocking back the hammer and trigger pulls
Long-lasting C02 cartridges

Why we like it:
This compact semi-automatic is easy to hold offering impressive responsiveness with different size BBs.
Editor's Rating:
Design features
When looking for a cheap airsoft gun, it is often the case that users are new to this world. In this case, their expectations vary and many shooters simply don't know the type of gun to consider. A semi-automatic is a fun design to use for beginners. Since they sustain continuous fire, they can be used even when the accuracy is still not there.
Its compact size can recommend this airsoft gun for all types of shots. From shooting empty cans out in nature to practicing accuracy on paper-printed target, it supports all types of shooting needs. At the same time, the airsoft gun is one of the leading options for moving users. Stepping to the left or the right or even advancing towards the target is easier to practice with a lighter gun.
Convenient features
One of the most convenient features of the semi-automatic is that it manages to shoot different types of BBs. Standard 0.20g seem to work the best. But the magazine holds heavier BBs of up to 0.28g. Most of these are fast. The maximum shooting speed reaches 125 FPS. This means that even such a lightweight semi only needs to be used with the right protective gear.
This semi is based on battery power. Users enjoy a battery which is quick to charge as well as one of the most robust systems for battery efficiency, such as the included overload protection. However, above all of these convenient features, users can also count on a fun experience. An entire magazine can be emptied within a minute and the overall feel of the gun is specific to what many beginners expect when entering the airsoft world.
Verdict
Lightweight and easy to hold, this semi-automatic is fun to use as it goes through hundreds of BBs in minutes.
Pros
Powered by fast-charging batteries
Uses all types of BBs
Empties a magazine within a minute
Reaches speeds of up to 125 FPS
Cons
Not the fastest to assemble
Best Cheap Airsoft Guns 2021 (Under $200)
Spending a bit more comes with its benefits. Those into airsoft guns can find plenty of ergonomic designs within $200. Many of these guns are also easier to assemble. For example, changing the spring is easier and faster than with cheaper alternatives.

Why we like it:
The Evike shotgun takes all various BBs and it fires 3 of them at the same time.
Editor's Rating:
Design features
Designed to be as faithful as possible to a real shotgun, Evike's design is one of the best solutions when it comes to the real shotgun experience. This means this airsoft gun is also acting like a real one, where spread beats accuracy every time.
The design of the gun also allows a small magazine to be filled with 3 BBs. This would be 0.12 to 0.20 BBs. Unlike many other options in its class, the shotgun combines metal parts with plastic parts, so it has a heavier feel. However, even with this heavy design, it is still made for the highest accuracy from a close distance and indoor fun.
With a high power spring, users can see BBs flying through the air at a minimum of 280 FPS. This also means this shotgun is among the mid-range airsoft design in terms of speed. But the BBs will still penetrate soft surfaces and proper protective wear is needed.
Convenient features
The tri-shot system of the gun is what makes it different from all other airsoft guns. Unlike pistols or rifles, it shoots with 3 BBs at the same time, to offer an immediate spread. The lighter the BBs the more spread out the shot gets.
However, the accuracy of this gun is approximative, as with many similar designs. It is not specifically made to hit small targets in the distance, such as soda cans. But it can be one of the options beginners use when their accuracy skills are improving.
Since it does not require C02 cartridges, the shotgun is also very easy to use. It can be a good gift idea for those who are serious about airsoft and who need to use a gun every day. In combat, the shotgun may lack finesse, mainly due to the wobbly folding stock.
Verdict
Fun to use with its tri-shot system, the shotgun can be an inspired CO2-free airsoft gun.
Pros
Shoots 3 BBs at the same time
Loads up to 3 BBs
Available in various colors
Shoots smaller BBs up to 300 FPS

Why we like it:
Those into rifles can have their fun with the Field Marksman and its included bipod.
Editor's Rating:
Design features
Airsoft rifles are growing in popularity and many users prefer them to other guns mainly when trying to improve accuracy. Since they can even sit on the ground, the user has more control and the ability to adapt the shot considering wind conditions and target distance.
The 1:1 ratio of the rifle make it sustainable for those who might even want to practice a bit before moving up to a real rifle. Being longer than a pistol, it is also heavier to hold. Users can take advantage of the included bipod to ground the rifle better and to take those shot which is closer to the aiming point.
Convenient features
Takin BBs of up to 0.22g, the rifle is as versatile as any other airsoft gun. Its shooting speed is faster, however. Going over the 400 FPS speed limit, the BBs can easily shoot through the paper. As a result, a bit of protection is needed. For example, when shooting targets against a wooden fence it is advisable to protect the fence behind the target as the BBs leave marks.
Another convenient aspect is the good fit of the magazine which means the rifle feels closer to a real weapon. The magazine cannot be simply removed in a fraction of a second. However, the rifle has its drawbacks as well. One of them is accuracy itself. From a distance, it takes some practice to find the target properly as there's a bit of a curve beyond 30 feet. However, users can compensate by aiming to the sides when going the distance for those long shots.
Verdict
Made with a bipod, the airsoft rifle is a good choice for added stability and patience-based shots.
Pros
Made with a 1:1 ratio
Suitable for small target
Shoots at 400 FPS
Tight magazine fit
Cons
Lower accuracy beyond 30 feet

Why we like it:
Made from durable polymer and metal gears, the airsoft gun is now at its 5th generation
Editor's Rating:
Design features
This airsoft gun might be made from plastics, but they feel solid and ergonomic. Since its already at its 5th release, its design is vastly improved so that every piece fits well together. The 3 gears are now made from metal which means the chances of a misfire as considerably reduced.
Shooting with a bit of extra power from the batteries, the gun is one of the options to consider for outdoor use, especially when on a budget. As one of the underestimated guns in its class, it can deliver good accuracy with a wide range of BBs. With the help of the included batteries and charger, the gun delivers impressive speeds even in light wind conditions.
Convenient features
The main feature of the gun is its speed. Depending on the size of the BBs, it can shoot with top speeds above the 500 FPS mark, which is rare given its affordability. Given its low price, it is also one of the attractive options for beginners.
Those new to airsoft can also find it interesting due to its ambidextrous design. This is why it can even be shared by friends and family for practice target shoot outs. But another interesting feature comes with its customizable profile. It can take various scopes, lights and accessories to make it more realistic and to offer a more complex shooting experience. Its combat design is also making it justice, especially since it comes with such high-speed shots.
Verdict
Made to feel better in the hands, the gun is one of the ambidextrous designs with high shooting speeds.
Pros
Suitable for left and right-handed players
Fits various scopes and accessories
Shoots BBs with speeds over 500 FPS
Includes a 1-year warranty
Cons
Too powerful for indoor targets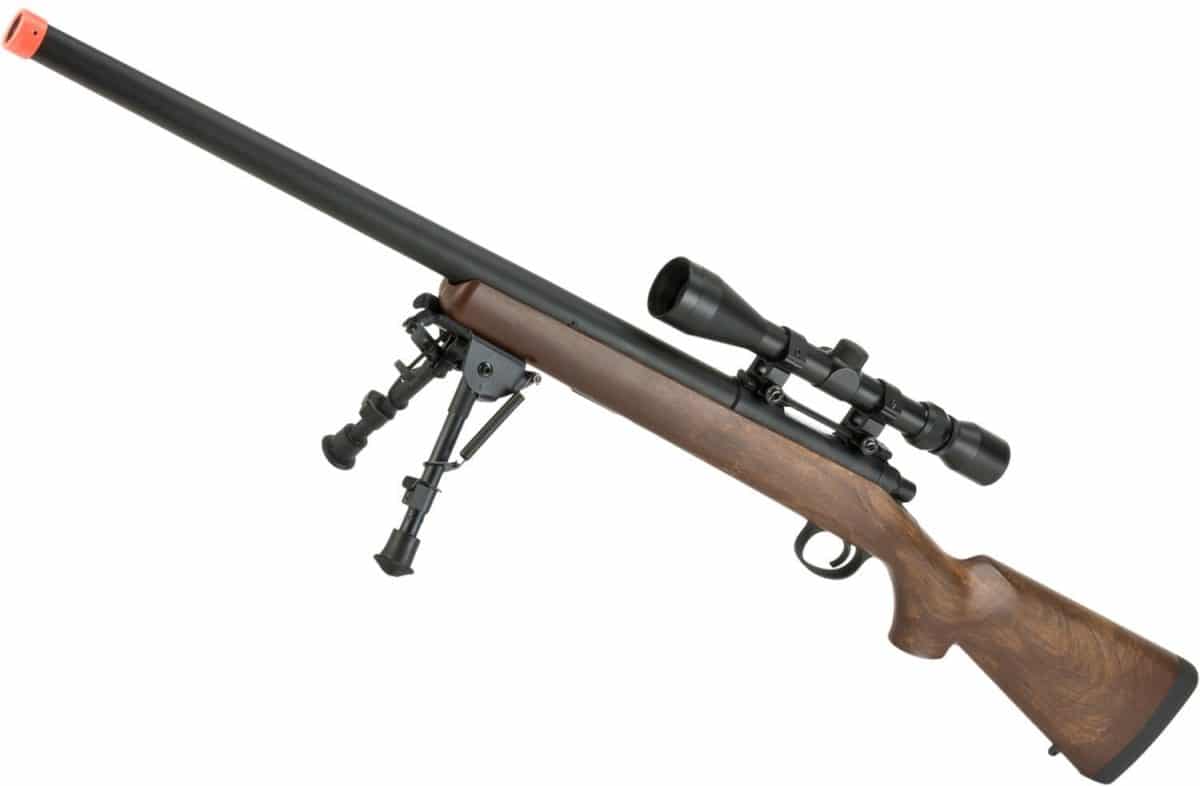 Why we like it:
This bolt action rifle eliminates the need for gas or batteries, offering a fun mechanical design.
Editor's Rating:
Design features
With heavy-duty bolt assembly and trigger box, the realistic-looking rifle is among the leading options for those who value classic designs. Inspired by wooden rifles, it manages to offer a complete experience from these types of weapons. Even if it does not feature a scope, it can still hold one to improve accuracy.
This means that the rifle can easily be a choice for those who need a bit more freedom when it comes to their shot accuracy learning curve. An inexpensive scope will fit the rifle the best, without disturbing its weight distribution.
Convenient features
With spring-powered bolt action, the rifle is purely mechanical. This also means it can be upgraded easily as the spring can be replaced with other solutions in time. Furthermore, there are no CO2 cartridges to change.
BBs up to 0.20g can be shot into the distance with speeds of up to 450 FPS. Users can consider the rifle for outdoor use as a result. With the weather-resistant finish, it is ready for action and users to can simply use it even beyond the summer months. With BAR-10 compatible springs, it can also be updated to springs such as those made by Laylax or AirsoftPro.
With a weight of just over 2.000g, the rifle can also be grounded for a bit more stability. The included bipod makes this easier, even if other more stable designs can fit this long rifle even better while shooting outdoors.
Verdict
Suitable for outdoor use, the rifle handles BBs with speed and based on mechanical spring action only.
Pros
Designed with a 55-cap magazine
Spring can be easily updated
Made with imitation stock wood
Based on metal bolt assembly

Why we like it:
This tactical gun is one of the realistic-looking solutions for a bit of speed and higher shooting capability per minute.
Editor's Rating:
Design features
Representing one of the most interesting designs of its class, it manages to offer a simple design with metal components on the mechanics' side and a plastic exterior. As a result, the gun is not too heavy. But on the other hand, it offers one of the best options for those seeking a lightweight performer, perfect for action on the move, specific to tactical operations.
Available in various colors, the gun is also one of the most suitable options for users looking for a complete tactical outfit. As a result, it can be an inspired gift idea with cargo pants or a camouflage T-shirt.
Convenient features
In terms of versatility, the airsoft gun can handle all types of BBs. Since it is not the best for accuracy, it can handle 0.25g BBs well. For outdoor purposes, its automatic action powered by batteries helps it achieve decent shooting speeds as well.
Made from durable plastic, the gun is also on par with similar designs for durability. As long as it doesn't go through major physical shocks, it will last for years. When users start demanding more from it in terms of accuracy, they can easily pair it with a scope for the best long-term shot skill improvements.
Verdict
Made from durable plastic, the airsoft gun is an outdoor performer available in various colors.
Pros
Suitable for tactical play
Shoots all types of BBs
Made with metal gears
Anti-slip grip design
Cons
Not the fastest tactical option

Why we like it:
This Thompson shoots nearly 14 rounds per second and it also looks distinct in the airsoft guns world.
Editor's Rating:
Design features
Representing a classic design, the airsoft gun is among the strongest options in its class in terms of looks. It is immediately recognized by anyone even remotely interested in airsoft guns. But the good news is the appealing aesthetics are also paired with great shooting performance.
As most airsoft guns in this price range, it comes with metal components on the inside. With included batteries and a 30-round magazine, the airsoft gun is among the best for speed based on a solid ergonomic grip.
Convenient features
This airsoft gun shoots BBs with speeds between 380 and 400 FPS, making it a viable alternative for outdoor use. Even it does not have a tactical design, its automatic profile recommends it for such situations. With full auto and semi-automatic performance, it's ready for action for many hours, backed by the metal gears.
Being a replica of the M1A1 rifle, the airsoft gun can be a great gift idea as well. Movie fans, as well as simple shooting fans, recognize it out of the box. In terms of drawbacks, the spring of the magazine can see an upgrade in the future, as it jams from time to time.
Verdict
The M1A1 replica can be used for tactical purposes and it can also come with an extra magazine for longer shooting sessions.
Pros
Reaches shooting speeds up to 400 FPS
Best with 0.20 BBs
Real Thompson M1A1 replica
Part of the Guns of History series
Cons
The battery doesn't include overcharge protection

Why we like it:
With top bucking and hop up units, this gas-powered pistol is among the most up to date options in its small design range.
Editor's Rating:
Design features
Those looking for a more practical airsoft design can find this semi-automatic to be more than enough. Most would think that its smaller size comes with compromises in terms of speed, but this is not the case.
Made to represent one of the best options in terms of ergonomics, the fully automatic capabilities of the gun are matched with ergonomic Samurai Edge grips. Sturdy in the hands, the airsoft gun can be a great gift idea for any Resident Evil fans or those seeking a second tactical option in case of emergency needs.
Convenient features
Apart from its compact pistol design, the gun has an automatic function which allows users to fire multiple rounds faster. This is also one of the reasons why the airsoft gun is one of the affordable options for long term use.
However, some users note that pot metal seers might need to be replaced in time. Until they get replaced, the gun is practically stuck in the fully automatic shooting mode. But for those who don't use the airsoft gun daily, it is a durable option at an affordable price.
Verdict
This compact gun comes with a fully automatic shooting mode, suitable as a replacement for the large-capacity tactical shooter.
Pros
Features a semi-auto and an auto mode
Large 26 rounds magazine
Based on gas blowback
Reaches 330FPS with some BBs
Cons
Not the best for saving ammo