A headset for your PS4 is a necessity for a true online gaming experience. A gaming headset allows you to take advantage of voice chat over the PlayStation Network and can give you a competitive edge in games that give audio clues to players or require communication. Because you'll spend so much time wearing it, picking your PS4 headset is one of the most important decisions a new PS4 owner can make. If you're looking to add a new headset to your PS4 setup without breaking the bank, you came to the right place. We've put together a list of the best cheap PS4-compatible headsets you can buy for in 2021.
Why is a Headset Important for Online Gaming?
Communication is key, especially in multiplayer gaming. That is why a good headset can make all the difference in online play. There are a lot of affordable PS4 headsets to choose from that are comfortable to wear and offer great sound quality for strategizing with teammates or taunting opponents. Each of the cheap PS4 headsets listed below will take your gaming experience to the next level all while saving you lots of money.
Factors to Consider in Cheap PS4 Headsets
If you just started looking for the best PS4 headset, you are likely overwhelmed by the different variety of products available. The first thing you need to decide is what is the most important benefit of a gaming headset to you. If you are a hardcore gamer, it may be the competitive advantage gained from being able to hear the game environment in full surround sound. If you are more of a social gamer, you will want to look at headsets with good voice chat features. Here are some other factors you should look at before deciding which PS4 headset to buy.
Compatibility: When looking for gaming headsets, you need to ensure that they will be compatible with your PS4. While many headsets work with multiple consoles, there are many gaming headsets that will not work with the PS4. You can be assured that any product on this list will work flawlessly with your Playstation.
Game Audio Quality: Even a budget-friendly PS4 headset should offer a very good audio experience. Headsets that give a good gaming experience can help you pay attention to the audio cues of your game and help you get a drop on your opponents. Many PS4 headsets offer a 3D surround-sound audio experience so you can easily pinpoint which direction footsteps or gunshots are coming from.
Microphone Quality: Communication in-game is key, especially for competitive multiplayer titles. Because of this, the included microphone not only has to function well but also has to be non-intrusive and remain in position while playing. This is especially true for gamers who move around a lot while they play. After all, when a match heats up, the last thing you want to worry about is a microphone getting caught in your mouth.
Comfort: Gaming with an uncomfortable headset is a drag. This is why comfort is one of the first things that you should look for when searching for PS4 headsets. This is a feature that people only realize they need after using the headset for a prolonged period. The problem is you can't just wear a headset for hours before buying it, so judging a set on this aspect is a little difficult.
Aesthetics: Looks do matter. While not everything in your gaming rig needs to be flashy, your headset will literally be worn on your head. That's why we think it's important to pick a headset that you think looks nice. Sure, you can call us shallow, but no gamer wants to look like a clown when playing.
Best Cheap PS4 Headsets 2021 (Under $60)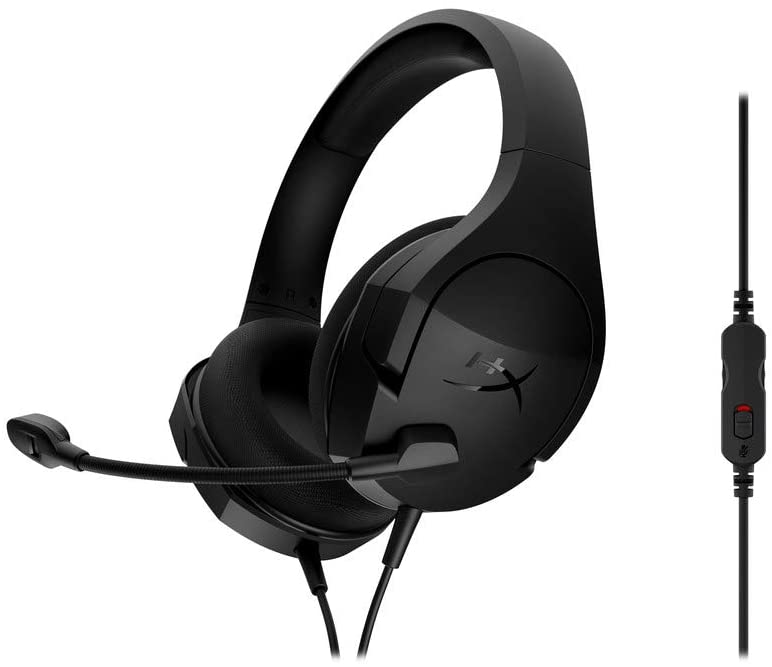 Why we like it:
This affordable PS4 headset comes with additional features such as an aluminum frame, powerful drivers, and a detachable microphone.
Editor's Rating:
Construction and Aesthetics
One factor that makes the HyperX less expensive than other PS4 gaming headsets is that it uses plastic material in its design. Aside from the internal metal piece inside the headband, there is no aluminum or steel to be found here. Despite this reliance on plastic, the Cloud Stinger doesn't feel cheap. It has a pleasing weight to it, and the plastic materials have a matte coating that lends an air of sophistication. All surfaces are matte black, except the red HyperX logo on the side of the ear cup. There are no other color options for the Cloud Stinger.
Comfort
The Cloud Stinger features padded, synthetic leather ear cups and headband padding. The headband padding is very cushy for a budget headset, and the memory foam inside the ear cups allows for a comfortable fit during long gaming sessions. The ear cups also rotate, which helps create a comfortable fit against your head and also makes the headphones less of a nuisance when you take them off and wear around your neck.
Microphone and Headset Cable
The microphone and headset cable is permanently attached to the left ear cup. The mic sits at the end of a flexible rubber boom, which you can swivel up to mute the mic. The 4.5-foot headset cable terminates in a 3.5mm plug, so it is compatible with a range of consoles. This headset also includes a 3.5-foot extension cable that has two 3.5mm plugs to use with PCs that have separate headphone and microphone jacks.
This headset doesn't have any inline controls. Instead, you'll have to familiarize yourself with the volume slider on the bottom edge of the right ear cup if you want to adjust the volume. You can conveniently mute the microphone by flipping it vertically against the head.
Sound
Inside the ear cups, 50 mm drivers power the audio output. This means that the Cloud Stinger boasts of bigger sound than other budget headsets. On top of that, there's a built-in passive noise cancellation that reduces background noise for clearer voice quality.
Verdict
The HyperX Cloud Stinger is the most comfortable and best sounding budget headset. It's neither heavy nor too light, so it feels sturdy without becoming uncomfortable during long gaming sessions. Besides, the oval, synthetic leather ear cups offer a great fit and feel. This combined with its affordable price makes it the best option for a low-cost headset for gamers on a tight budget.
Pros
Most comfortable budget headset
Immersive sound with good noise-canceling
Made from durable plastic

Why we like it:
The G9000 Stereo Gaming Headset features a high-precision, 40 mm magnetic neodymium driver and booming bass, ensuring it provides clear sound that enhances your gaming experience.
Editor's Rating:
Compatibility
This professional PS4 gaming headset is also suitable for gamers who are into multiplatform gaming. Besides supporting PS4 consoles, this headset is also compatible with Xbox One, Windows PC, laptops, tablets, iPad, and mobile phones. If you want to use it with an Xbox One controller, you need an extra Microsoft adapter or 1-to-2 3.5mm jack cable if you want to listen and chat at the same time. You can also use this headset for video chatting and conference calls.
Microphone Quality
Communication in-game is key, particularly if you're in a highly competitive multiplayer game. The Bengoo G9000 features a noise-isolating, omnidirectional microphone that helps messages come through nice and clear even amidst the most chaotic action. The microphone transmits high-quality communication with its premium noise-canceling feature. This enables you to conveniently adjust the microphone's angle and deliver or receive messages while you are in a game.
Sound Quality
The G9000 comes with a high-precision, 40 mm magnetic neodymium driver and booming bass, which provides clear sound that enhances your gaming experience. You can enjoy the game's soundtrack, or continue chatting with team members or lose yourself in the shocks and sounds of your favorite game. Besides providing clear sound quality, the Bengoo G9000 has a spending ambient noise isolation and driver acoustic positioning that brings you vivid sound field and sound clarity. It gives the feeling of a surrounding stereo subwoofer.
The angled and highly precise driver brings you vivid sound field, clarity, and sound shock feeling. This headset will give you an immersive sound experience with action games like Metal Gear Solid, Call of Duty, Star Wars Battlefront, Overwatch, and World of Warcraft Legion, among others.
Design and Comfort
This PS4 gaming headset has extra soft over-ear pads that will keep you comfortable during marathon gaming sessions. You can use the built-in controls on the cable to instantly control volume or mute your microphone. It features a braided USB cable with rotary volume controller and key microphone mute that prevents the cable from twining. It has skin-friendly leather material for a longer period of wearing. The over-ear pads reduce hearing impairment and heat sweat. Besides, this headset has stylish LED lights on the ear cups designed to highlight the game atmosphere—unfortunately, though, the USB connection that powers the lights hangs awkwardly off to the side when in use.
Verdict
The G9000 is a multiplatform gaming headset that can also be used for video chatting and conference calls. It features drivers that deliver a vivid sound field and sound clarity for an immersive sound experience. You can easily control the volume in-game while sending clear messages using high-quality microphones.
Pros
The microphones deliver high-quality communication
It delivers an immersive sound experience using its drivers
It's comfortable to wear for long periods
It has a stylish design with the LED lights that highlight the game atmosphere
Cons
The USB for the LED lights just dangles next to the main plug when using

Why we like it:
The Steel Series Arctis 3 features a Discord-certified ClearCast microphone that delivers studio-quality voice clarity and cancels all background noise.
Editor's Rating:
Microphone Quality
The Steel Series Arctis 3 excels in so many categories, it's hard to know where to start. However, if you're into competitive multiplayer gaming, then this is the best PS4 headset for you. The ClearCast mic is Discord-certified and delivers the best quality sound for voice chatting on any platform. This sound has been rated as studio quality, and the Arctis manages to cancel all background noise with its microphone.
Versatile Compatibility
If you're a multiplatform player with other consoles or a gaming PC in addition to your PS4, you'll be able to enjoy the Arctis 3 on all those systems as well. The Arctis 3 is compatible with virtually every console right out of the box through the wired connection. All gamers, regardless of platform, can take advantage of the headset's excellent surround sound and ClearCast microphone.
Stylish
Arctis 3's design looks mature and professional. Its aesthetic mimics audiophile headphones, with a novel, one-size-fits-all headband that is incredibly comfortable and can be customized with different earpad fabrics and headband styles to fit your taste.
Comfort
This headset features athletic-inspired performance AirWeave ear cushions that keep your ears cool and dry. This provides you with lots of comfort when engaging in long gaming sessions. To add to that, the Arctis 3 has an exclusive ski goggle suspension headband that perfectly contours across your entire head. This ensures that it comfortably distributes the weight and eliminates the pressure points on your head. This headset has also been constructed with strong, ultra-lightweight materials for maximum comfort and durability. The Velcro band works well, but some people might find that they prefer other systems of attachment.
Easy Controls and Sharing
The Arctis 3 features ergonomic on-ear controls that give you easy access to volume and microphone mute. It makes it quite easy to make game-time adjustments by simply tapping the ear cup. You can also easily share your gaming audio with friends using the built-in jack. All you have to do is simply plug in any headset or earbuds into the Arctis 3.
Sound Quality
The Steel Series Arctis 3 produces the best sound quality using the S1 speaker drivers. These drivers have been engineered to produce ultra-low distortion audio so that you can hear every detail. This is quite advantageous to players of shooter games like Call of Duty since you can easily tell where the gunshots are coming from, giving you a competitive advantage.
Verdict
The Steel Series Arctis 3 has been designed to produce superior sound, comfort, and style on all gaming platforms—not just PS4. The microphone quality and sound quality from the drivers also give you a competitive edge if you are into multiplayer gaming.
Pros
It's very comfortable to wear for long gaming.
It provides the best sound quality.
It features a sleek, minimalist design.
The mic gives the best audio and cancels all background noise.
It's versatile and compatible with different gaming consoles.
Cons
While comfortable, not everyone will like the adjustable Velcro band

Why we like it:
The VersionTECH G2000 PS4 headset features an adjustable noise-cancellation microphone that allows the player to be fully immersed in the game.
Editor's Rating:
Versatile Compatibility
If you're into multiplatform gaming, this headset is the right one for you. The G2000 has superb compatibility for different consoles. You can enjoy using this headset while playing not only with your PS4 or PS4 Pro, but with other platforms such as Xbox One, PC, Nintendo Switch, laptop, tablet, iPad, and mobile phone. All you have to do is connect the 3.5mm jack on PCs, or use an extra Microsoft adapter for Xbox One controllers. It is quite easy to set-up on the PS4 and does not require any additional items. You only need to plug and play with no setup or installation necessary.
Comfort
The VersionTECH G2000 has been built from premium materials. The ergonomically designed memory-protein soft ear cushion does well in breathing freely and is absorbent. The softly padded retractable headband design allows you to find the perfect fit without constraint and provides extra durability. The synthetic leather-wrapped ear-cushions is thicker and bigger, which ensures play-all-night comfort. Although otherwise comfortable, the cord be a bit annoying due to its positioning—if you anticipate this bothering you, we recommend playing it safe and choosing a wireless headset.
Stylish LED Light Design
This headset features big pulsating LED lights on the ear cups. These make it cool enough to highlight the atmosphere of the whole game. However, these LED lights on the ear cups are only powered while the USB is plugged in.
Microphone Quality
These gaming headsets are omnidirectional, adjustable, and flexible, enabling them to pick up a voice across 360 degrees. The free and flexible rotating mic can be fixed at any perfect angle to pick up your voice clearly with great sensitivity. It also provides high-end noise cancellation to enable you to chat with your teammates with crystal clarity. You can also swivel to mute the microphone on this headset.
Sound Quality
The G2000 features two sharp 50 mm neodymium magnetic drivers installed inside to deliver an incredible 3D surround sound. This enhances the ambiance and immersion for both games and music and brings unprecedented audio enjoyment for all types of gamers.
Verdict
This headset features a proprietary design and constant innovation to deliver clarity and well noise isolation to match the evolving needs of gamers. With the function of inline controls, the headset allows you to quickly and easily adjust volume and mute control, which possesses the ultimate comfort, superior sound quality, and long term durability.
Pros
It's comfortable to wear for long gaming hours.
It features a noise reduction microphone for immersive gaming sound.
It features an LED light on the ear cups to highlight the gaming atmosphere.
It delivers incredible 3D surround sound to enhance the ambiance.
Cons
The dangling cord can be intrusive while gaming

Why we like it:
This gaming headset features a flip-to-mute, unidirectional microphone with an inline volume adjustment that provides more control, so you're always in command of your audio.
Editor's Rating:
Compatibility
You can enjoy multiplatform gaming with the Astro A10 gaming headset, which has been optimized not only for PS4 but other consoles as well. You can use it to enjoy gaming audio from Xbox One, Windows PC, Mac, mobile, and Nintendo Switch. All you have to do is connect the 3.5mm jack on the headset to your console or controller and you're good to go.
Durable Design
The Astro A10 features a durable aluminum headband with damage-resistant rubberized cover and detachable cable system designed to withstand wins, losses, and everything in between. This headset looks like it could have been a prop in Terminator 2. A hard plastic exoskeleton headband and earpiece connections give the headset a distinctly futuristic look.
Comfort
This PS4 gaming headset features over the ear construction with foam ear cushions and headband. The Astro A10 is light, so it lowers fatigue and extends any gaming session. You can also turn the earpieces out and wear the set off the ear, which is a welcome addition to those who plan all-day gaming sessions.
Audio Performance
Though it doesn't offer surround-sound audio, the Astro A10 has been tuned for gaming and delivers brilliant sound through its drivers. This ensures that you hear your game and teammates with clarity and precision. Besides this, the A10 enables you to communicate clearly using the flip-to-mute unidirectional microphone. With the inline volume control, you and your teammates will always hear each other clearly and accurately when in multiplayer mode.
Microphone Quality
The Astro A10 gaming headset gives you a stylish look with its design. This design blends in well with your PS4 console. This gaming headset was conceived in the pits of eSports tournaments, so it has been designed with producing clean voice chat in mind. The flexible and durable microphone offered on the A10 provides clear, low-noise communication. This makes it suitable for use on multiplatform gaming and multiplayer games where you need to communicate with your friends. You do not have to worry about outside noise with this headset.
Verdict
You can unlock the ultimate PS4 experience with the A10 headset. It features durable construction and extended comfort so you can play longer with no downtime. It has been tuned for gaming and ensures you hear your game and teammates with clarity and precision. With the Astro A10 gaming headset, you don't just play your game—you experience it.
Pros
Comfortable to wear
Flip-to-mute microphone
Immersive virtual sound environment
Durable design
Compatible with other consoles like Xbox One and PC
Best Cheap PS4 Headsets 2021 (Under $30)

Why we like it:
A high-performance headset at an excellent price, the PeohZarr Gaming Headset features a high-precision magnetic neodymium driver to help you hear even the most subtle sounds.
Editor's Rating:
Style and Comfort
The round earpieces of the PeohZarr Gaming Headset feature a unique LED design that gives this gaming headset a great look. Unfortunately, the LED lights only come in blue. The earpads are large and comfortable, though gamers with smaller heads may have difficulty keeping them in place. This headset is also heavier than many of the available alternatives.
Audio Quality
With full 7.1 surround sound and a large 50 mm high-precision magnetic driver made from neodymium, the PeohZarr Gaming Headset lets players hear even faint footsteps with remarkable clarity. This gaming headset also puts out impressive levels of bass.
Microphone Quality
The noise-canceling microphone picks up voice from all directions and captures crisp audio without ambient noise. The microphone is bendable and does a great job keeping in place while you play. The high-quality microphone also makes this headset a great choice for video conferencing.
Durability
This is a sturdy gaming headset for your PS4. With a full two-year warranty covering all parts of the PeohZarr Gaming Headset, you can be sure that your new gaming headset will be working as intended for a long time.
Verdict
The PeohZarr Gaming Headset is not the most stylish looking gaming headset we reviewed, but thanks to the great sound quality and excellent comfort while playing, it's one of our top choices for PS4 headsets under $30. Music lovers will appreciate the powerful driver and responsive base.
Pros
Large comfortable design
Excellent audio quality
Bendable noise-canceling microphone
Durable and backed by a warranty
Cons
Only comes in one color/design
Can be uncomfortable for gamers with smaller heads

Why we like it:
With a comfortable, over-the-ear design and a powerful subwoofer, the ONIKUMA Gaming Headset is a value-priced headset that provides an immersive experience.
Editor's Rating:
Style and Comfort
Featuring a retractable headband and soft padding lining the ear areas, the ONIKUMA Gaming Headset is comfortable to wear, even during extended gaming sessions. The design is a bit bulky looking, but the blue LED on the side is a cool looking touch. Thankfully, even with the larger design, the headset is not particularly heavy.
Audio Quality
Thanks to the powerful subwoofer, the ONIKUMA Gaming Headset sounds great and delivers an excellent surround sound experience while playing. The large 50 mm driver creates a crisp and powerful sound.
Microphone Quality
In addition to great sound quality, the ONIKUMA Gaming Headset also features an adjustable noise-canceling microphone. There are no problems being heard regardless of where the microphone is placed because of the omnidirectional design.
Durability
The ONIKUMA Gaming Headset is built to last and comes with a lifetime warranty against factory defects. You also get a 48-month replacement policy.
Verdict
Even though it's normally sold for a few dollars over $30, this headset is such a good deal that leaving it off this list would be a big mistake. Especially considering that it can be used on most other gaming platforms in addition to the PS4, the ONIKUMA Gaming Headset is a budget-friendly option that performs just as well as more expensive alternatives.
Pros
Great sound quality at a low price
Features 7.1 surround sound
Comfortable to wear for long periods
Lifetime warranty

Why we like it:
The least expensive headset that made our list, the Recon Chat Headset from Turtle Beach features a comfortable one-ear design that can be worn on either side.
Editor's Rating:
Style and Comfort
An ideal choice for casual gamers, the Recon Chat Headset allows people to play their favorite voice chat games on PS4 while still being able to hear the room around them. Thanks to the unique open-ear cup design, even the ear that is covered is still open to hearing what is going on around you. The head strap fits comfortably on heads of all sizes and is especially comfortable even when wearing glasses.
Audio Quality
The earpiece of the Recon Chat Headset plays voice chat and game audio clearly into one ear. While the sound quality is good, not having stereo sound is a disadvantage in battle royale games and other games with audio clues.
Microphone Quality
The adjustable, high-sensitivity microphone that comes with the Recon Chat Headset ensures your voice can be heard clearly by your online chatting partners. The inline controls allow you to adjust the volume or mute your microphone quickly while playing.
Durability
With a thick plastic headband, the Turtle Beach Recon Chat Headset is sturdy and built to last. The adjustable boom mic securely attached and bends without breaking.
Verdict
While gamers wearing this headset will be at a disadvantage in games that reward hearing your surroundings, this well-priced headset is perfectly suited for gamers who want to voice chat while still being able to hear their surroundings.
Pros
Unique open-ear cup design lets you hear your surroundings
Comfortable to wear with glasses
Can be worn on either ear
Exceedingly affordable
Cons
Does not allow you to hear your game in stereo through the headset

Why we like it:
With a lightweight and comfortable design, the Recon 50X folds flat when not in use for easy transport. This makes it one of our favorite value headsets for gamers carrying their equipment with them.
Editor's Rating:
Style and Comfort
Available in five different color variations, the Recon 50X headset from Turtle Beach is light enough to stay comfortable, even during extended gaming sessions. We also appreciated how easily the microphone can be removed from the headset, making it more comfortable when being used only for listening.
Audio Quality
While the audio played through this headset is crystal clear, the 40 mm speakers are smaller than some of the alternatives we reviewed in the same price range. This means that the sound coming through this unit is not as powerful as some of your other options.
Microphone Quality
Not only does the omnidirectional microphone included with this headset capture voice well, but it can also be removed for convenience and transport when not in use. Unfortunately, the mic is a little too sensitive for noisy environments.
Durability
The Recon 50X headset holds up well to everyday usage, but the lightweight design is prone to accidental breakage if dropped or stepped on. Thankfully, this headset is easier to repair than most other options we reviewed.
Verdict
While it's not the most powerful headset we reviewed, the Turtle Beach Recon 50X headset is a great choice for gamers on a budget. This headset is especially good for travel. Thanks to the removable microphone, this product also functions as a good pair of travel headphones for listening to music and watching movies and TV.
Pros
Lightweight and portable design
Removable microphone
Excellent sound quality
Cons
Microphone too sensitive for noisy environments
Less powerful than other alternatives

Why we like it:
Complete with all the features you would expect in a high-end gaming headset, the Turtle Beach Battle Buds In-Ear Gaming Headset delivers high performance without being bulky.
Editor's Rating:
Style and Comfort
Especially for gamers on the move, the Beach Batte Buds Gaming Headset from Turtle Beach is a great choice for keeping a low profile. The earbud-style headphones come with three different sizes of interchangeable ear tips to comfortably fit most ears. We were pleasantly surprised by how well the light boom microphone stays in place while gaming. Like most earbud headphones, these can become uncomfortable after wearing for more than a few hours.
Audio Quality
The audio through the 10 mm speakers in each of these earbuds is crystal clear, and this headset is an excellent choice for voice chat. However, gamers looking for deep bass when they play should probably look for a pair of studio headphones instead of earbuds.
Microphone Quality
Our favorite part of the removable ultra-light boom microphone included with this headset is how well it stays in place while moving. It does a great job of picking up the chat of gamers wearing this headset, but we would have liked to see more noise-canceling features.
Durability
The Battle Buds In-Ear Gaming Headset feels solid and well-constructed. However, the rubber parts can become worn with use. This headset will likely need to be replaced after a few years of regular use.
Verdict
The Turtle Beach Battle Buds In-Ear Gaming Headset is our favorite in-ear gaming headset under $30. It's a great pick for gaming on the go, but players who will be gaming for longer periods of time should probably choose a headset that fits over their ears like the Turtle Beach – Recon 50X.
Pros
Three latex ear-tips to fit almost any ears
Ultra-lightweight boom microphone stays in front of your mouth easily
Good sound quality
The best in-ear PS4 headset
Cons
Bass is not very powerful
The microphone picks up too much background noise
A little uncomfortable for extended use