Are you a dedicated gamer of PC or console games? You need to be comfortable to play your best. You will require a superior gaming chair designed to keep you comfortable for many hours as you play. Otherwise, you will be forced to stand often to stretch your back.
You can get the best gaming chair that combines aesthetics, durability, and comfort without spending a lot.
Our guide takes a look at the 10 best gaming chairs under $100 and $200. Here, we provide the finest gaming chairs within this budget and the details you need to be aware of before investing in one.
Features to Consider in Cheap Gaming Chairs
Although the price is reasonable, don't purchase it if lacks these features that guarantee comfort for long hours of gaming:
Materials
You should consider the materials used to make the gaming chair. For the gaming chair to last long, ensure the material is durable. If you intend to use the chair for many hours at a time, choose those that have breathable material. This way, you will be assured of comfort without concerns of sweat accumulating as you play.
Comfort
The best gaming chair integrates various features that guarantee your comfort. So, choose a chair that has sufficient padding on the seat, armrest, backrest, and headrest. Also, look for a chair that allows you to rock it forth and back. For enhanced comfort, ensure you look for a chair with an ergonomic footrest, lumbar and headrest cushion.
Customizable
If you need a gaming chair for different people while guaranteeing each comfortable sitting positions, make sure you invest in a customizable gaming chair. The chair should have adjustable height, which makes it appropriate for short and tall people to find the most comfortable sitting positions. Also, the chair should include a reclining feature, which allows you to incline it backward at different angles to find the most relaxing sitting position.
Size
Gaming chairs come in different backrest and seating area sizes. Therefore, ensure you take into account the person who will use the chair when choosing the chair size. It is better to choose a chair that has big dimensions. This will guarantee you a comfortable chair even after prolonged hours of gaming. Also, ensure you invest in a chair that fits in your space. If room space is small, you may opt for a foldable chair you can tuck away when not using it.
Best Cheap Gaming Chairs Under $100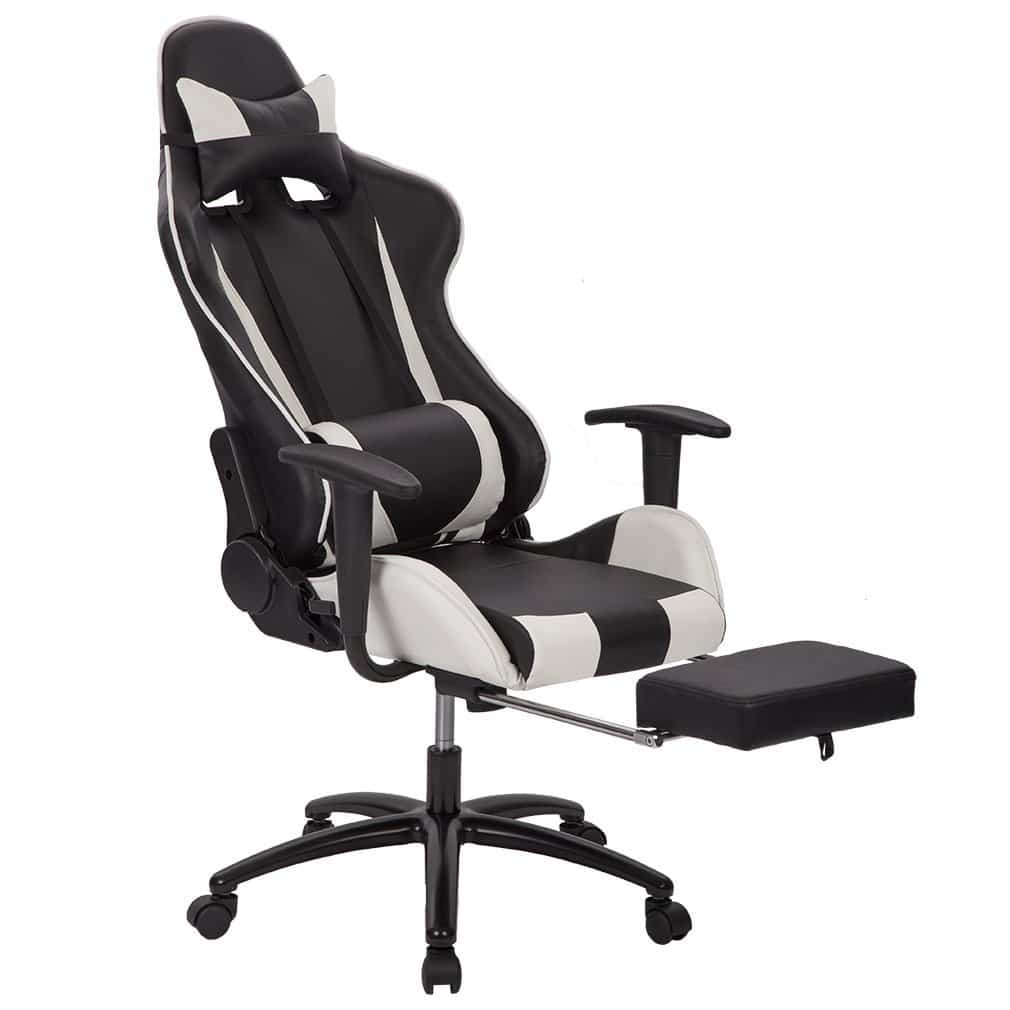 Why we like it:
This chair has nearly all the features found in high-end gaming chairs. This is a relatively new gaming chair and is already attracting a lot of attention from enthusiasts of gaming chairs.
Editor's Rating:
Design features
This chair like many racing chairs incorporates an ergonomic design that allows you to sit for a long time without causing muscle cramps. To maximize comfort, it incorporates bucket seat design which decreases your hips strain. Also, the backrest morphs around your back to accommodate you. This feature is extremely useful if you host different people in your gaming sessions.
The backrest is large at 36.6" (H) x 22" (W), which comfortably supports your entire spine. This helps maintain a sturdy posture and even prevent future spinal cord problems.
This chair includes lumbar support to comfortably support your lower back. Also, you get a headrest that will help you overcome stiff neck syndrome experienced by many gamers.
Convenient features
The biggest benefit of the chair is its backrest capable of performing full tilt of 900 to 1800. This recline feature allows to even fall asleep in your chair especially when you host binge gaming sessions. The height of the chair can be adjusted from 17.5" to 20.5" to accommodate different people of different heights. The chair has scratch resistant wheels capable of swiveling 3600. These are the most important features of any gaming chair and you can get them for less than $100.
Overall
For beginners, this a great chair and certainly the best gaming chair for less than $100.
The design of the chair is simple and classy. For budget gamers, this comfortable chair is ideal for prolonged gaming with friends and won't break the bank.
Pros
Includes all the necessary features

Cheap gaming chair

Highly adjustable
Cons
It is an entry gaming chair

Armrests are not adjustable

Short lifeline

Why we like it:
BirdRock Home Adjustable Gaming Chair prominently features in the cheapest gaming chairs owing to its simplicity and flexibility. It is made with soft fabric and memory foam that gives it flexibility without using gears.
Editor's Rating:
Design features
BirdRock is made using memory foam and plush fabric that feels like velvet. The foam allows the chair to retain its shape. The chair supports 14 different positions that allow an individual to select his/her comfortable gaming position.
Unlike most other gaming chairs that rely on levers and gears, BirdRock does not use any of them. The flexibility of the chair does not involve any mechanics.
As you engage in prolonged gameplay, your body will need mobility. This gaming chair allows you to mobility by altering its form occasionally, which also changes the position of your muscle.
Convenient features
The chair allows for universal use giving you various options. You can use the chair when reading your latest book, playing board games, and for meditation on the floor. It also, adds extra sitting in the house for friends and family. You can store the chair flat under your bed or high couch.
The chair is lightweight at 10.5 lbs. BirdRock gaming chair comes in 8 different colors for you to choose the color which corresponds to your room aesthetics.
Overall
This budget chair is for those who need a simple gaming chair without the mechanical complications and features associated with other console and PC gaming chairs.
This simple, stylish and cheap chair is ideal if you want a gaming chair that serves other purposes apart from gaming. Apart from gaming, you can use this gaming chair for parties etc.
Pros
Supports 14 different sitting positions

Available in 8different colors

Made with comfortable and plush material
Cons
Lacks pedestals or wheels

Why we like it:
This is a decent and budget-friendly racing style gaming chair. As such, it is a great entry point to the gaming world.
Editor's Rating:
Design features
Devoko Ergonomic Gaming Chair consists of PU leather with thickened pads on the seats and the back making it very comfortable. Also, the chair is quite adjustable since it allows you to rotate 3600 and move across the room without scratching the floor or making noise.
This Devoko chair allows you to adjust the seat height to support people of different sizes. As well, using the lock-tilt mechanism, you can tilt it back and forth whenever you need to take a break. The maximum load capacity for this chair is 300lbs making it capable of accommodating people who are a bit heavy. The adjustable set height is from 16.1" to 20".
Convenient features
The bucket seat in this racing style gaming chair allows you to have immense comfort as you immerse yourself in the game. The ergonomic design enables it to adjust to your shape and weight to make it rotate without making too much noise.
The chair comes with a curved back made from breathable premium PU leather and has a freely adjustable headrest and lumbar support pillow to protect your neck and spine.
Overall
A great starting point for computer game enthusiasts who spend a lot of hours playing but are unable to afford the high-end gaming racing chairs.
The chair is ideal for fledgling gaming enthusiasts who still depend on parents for pocket money. It is perfect for young gamers who spend hours on the computer for long periods of time without moving and are not able to afford the posh gaming chairs. This is a proper ergonomic gaming chair for those who are on a budget.
Pros
Ergonomic design

Cheap

Noiseless swivel
Cons
It does not fit in an executive office setting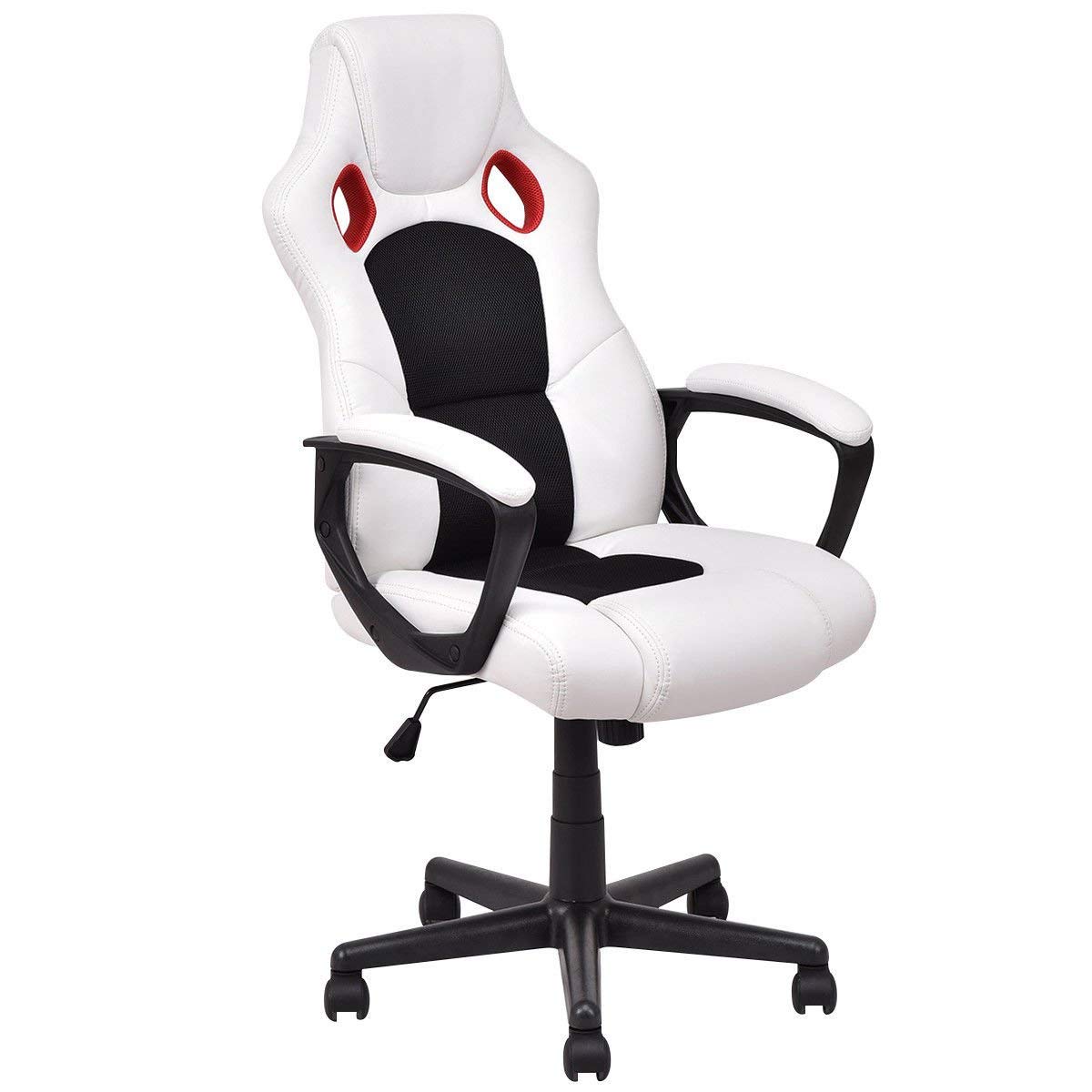 Why we like it:
Giantex Gaming Chair is a brilliant PC gaming chair that provides comfort and many features for less than $100. The chair balances comfort and luxury.
Editor's Rating:
Design features
Apart from it looks, this chair has several great features that allow you to sit for prolonged periods. Giantex Gaming Chair is made up of breathable PU mesh material that is easy to clean.
Giantex Gaming Chair supports 264lbs and the heavy-duty base guarantees stability even when you above the weight limit. Heavy-duty allow is used to reinforce the base. Giantex excels at providing a stable base. The base of the seat is wide enough and the design of the armrests provides maximum comfort.
Convenient features
The ergonomic design of the chair supports prolonged periods of sitting without the risk of developing bad posture. The height can be adjusted from 17.3" to 20.9" to accommodate different people of different sizes. Also, the chair comes with head and lumbar support.
The chair backrest rocks back and forth to provide some mobility. 5 casters allow for easy movement and swivel wheels rotate 3600 without stretching the floor or making noise.
Overall
The chair is very elegant in black and white, with red accents. It is appropriate for offices and gaming stations.
This a PC gaming chair suitable for individuals who are comfortable playing on the computer rather than on the games console. Also, it is appropriate for offices that need cheap, stylish and ergonomic chairs. In these scenarios, the chair is suitable for those on a budget and are ready to sacrifice some features like adjustable armrests.
Pros
Very sleek with a professional look

Highly adjustable

Breathable fabric
Cons
Fixed armrests

Its white color stains easily and is hard to handle and maintain.

The backrest does not tilt 1800, so you won't be able to sleep comfortably.

Why we like it:
Merax Ergonomic Office Chair is among the cheapest PC chair with a luxury racing style design. The chair ergonomically designed with features like a lumbar support, upholstery made from mesh fabric, PU leather material, headrest and high backrest. Also, it is highly adjustable, which makes it worth investing in.
Editor's Rating:
Design features
This Merax Ergonomic Office Chair is flexible in every aspect. The chair has a strong base and smooth 3600 swivel wheels. The height of the seat is adjustable from 19.2" to 23". The chair comes with padding on the lumbar support and the headrest. The backrest is capable of 1800 rotation and you can even adjust the angle of the armrest.
Thus, this gaming chair is perfect for different body types and positions with a maximum weight capacity of 225 lbs.
Convenient features
The design of the chair is modern which allows it to fit in any modern gaming corner. PU leather on this chair makes maintenance of this gaming chair less time-consuming. The chair will certainly stand the test of time with its fade resistant leather. The seat is spacious and properly cushioned. This luxury racing style executive chair has its pillow, backrest, armrests, and seat fitted with thick pads.
Merax Ergonomic Office Chair uses a pneumatic height lift to find your ideal cozy position and the rolling wheels ease transport of the chair.
Overall
Merax Ergonomic Office Chair is a cheap and highly adjustable gaming chair for PC.
Regardless of whether you are pulling long gaming sessions or planning to stay for long at your office, this elegant office chair has great appearances and guarantees to keep you comfortable.
Pros
Very cheap

Very adjustable

Made with breathable material
Best Cheap Gaming Chairs Under $200

Why we like it:
Although there are many technically superior gaming chairs than the Homall chair, this chair is the best for two reasons. It is very cheap and has a great mix of features, flexibility, style and brand name recognition.
Editor's Rating:
Design features
The chair is characterized by an executive and sporty look. Although the silhouette and design are undeniably that of a racing car seat, the color combinations are mostly executive sleek. Thus, the chair is suitable for different occasions and locations.
The chair is very unique since it features a set of 3 colors instead of the normal 2. The features of this chair are adequate. It is comprised of padding of PU leather all over the chair and comes with noiseless swivel wheels. You can tilt the chair from 900 to 1500 backward and can easily be rocked forth and back. Although it lacks headrest, the chair has lumbar support.
The maximum load capacity for this chair is 300 lbs.
Convenient features
The fashionable chair features popular elements such as contrast color, embroidery, patchwork, and stitching. The luxury armrests have a unique touch and can be adjusted in all directions.
The tilt mechanism allows you to look for your suitable position at work and when playing. Homall chair adjustable height is between 17.5" to 21.8". Alongside the thick seat padding, the adjustable armrests and height add to the comfort.
Overall
This is the best gaming chair for individuals who find a DXRacer chair expensive.
This Homall racing chair design focuses on ergonomics and appearance with the aim of providing you comfort all-day. The body-hugging design of the chair adapts perfectly to the human back while the adjustable armrest and seat coupled with the lumbar cushion and detachable pillow guarantee you a comfortable position.
Pros
Unique and elegant design

Very cheap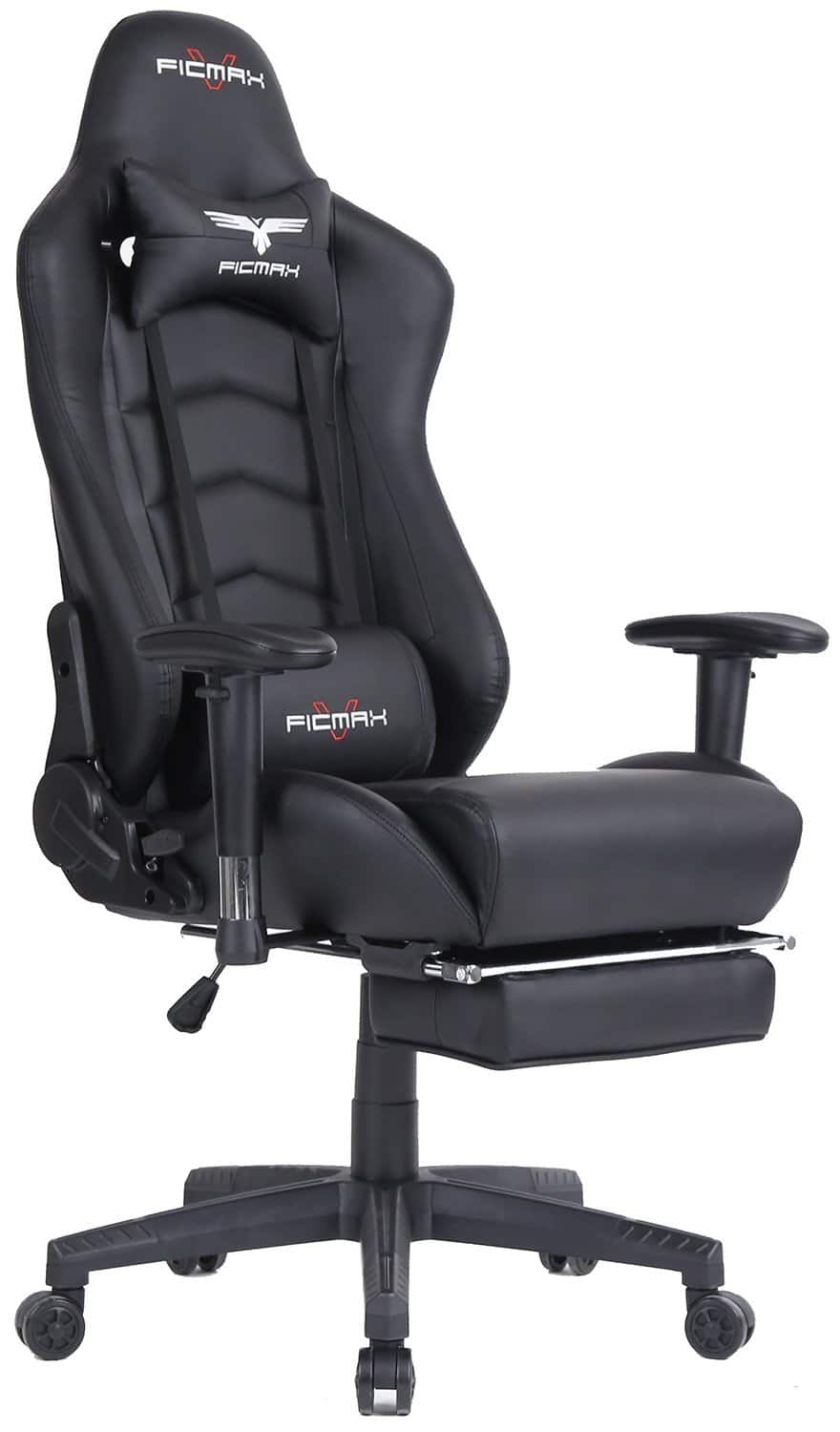 Why we like it:
It is durable and has the best features for the cheapest gaming chair for PC. The chair has some truly unique features; for instance, the USB massage feature sets it apart in this category.
Editor's Rating:
Design features
Ficmax Ergonomic High-back Gaming Chair incorporates all the regular features of a gaming chair like swivel wheels, ergonomic design as well as an adjustable backrest, height, and armrests.
The chair comes with high-quality PU leather that is fade resistant and easy to clean. Also, the thick sponge is of high-density which provides good elasticity without deforming it. You also get a lumbar cushion, headrest pillow, ergonomic wider and thicker armrest, wider backrest and a larger seat cushion.
The 3600 swivel or the 900 to 1800 tilt mechanism allows you to locate the position that suits you. Together with retractable footrest, you can lie flat and take aba break whenever you want. Also, you can smoothly adjust your seat height from 18" to 22". The chair has a heavy-duty base and castors that enhance its stability.
This Ficmax gaming chair is endowed with solid padding to ensure you remain comfortable for long hours. The maximum load capacity for this chair is 300 lbs.
Convenient features
The big surprise in this cheap PC gaming chair is its USB massager. This allows you to use your gaming chair as a massage chair by pressing a button. This is particularly useful after long sessions of gameplay.
Also, the chair comes with an easily extendable footrest. This allows you to lie down and enjoy the prime support and comfort of the chair.
Overall
This cheap gaming chair is ideal for gamers who want a chair that provides a massage feature.
The racing design for this Ficmax gaming chair focuses on ergonomics to ensure you get the most comfortable support. For this category, this chair allows you total relaxation through its innovative massage function.
Pros
Provides USB massage

Highly adjustable
Cons
The chair is very difficult to assemble

Slightly wobbly armrests will need re-tightening of the screws in future

Why we like it:
This cheap pedestal console gaming chair provides an immersive experience through its wireless audio and is compatible with all gaming consoles.
Editor's Rating:
Design features
X Rocker 51396 Pro Series introduces you to interactive audio listening. Although this chair is primed for prolonged periods of playing video games, it is perfect for laying back and listening to music.
The chair comes with 2 speakers around the headrest section and one subwoofer that uses Audio Modulation technology (AFM). AFM integrates power subwoofers and speakers into the space inside the X Rocker chair. The technology magnifies the sound allowing you to be surrounded by a wall of interactive sound when playing games, listening to music or watching movies. You can connect to TVs, DVDs, VHS etc.
Convenient features
The pedestal makes the chair to swivel 3600 while remaining firmly rooted to ease the movement of the chair around the room. The large armrests can be adjusted for maximum comfort. Apart from providing support, the gunstock arms have a remarkable look. Also, it is easy to lean on the backrest.
The chair has an inbuilt wireless receiver and a wireless transmitter for sending audio from sources that have headsets or RCA outputs to the gaming chair.
Overall
X Rocker is ideal for gamers who require a cheap pedestal chair with inbuilt wireless speakers.
X Rocker 51396 Pro Series 2.1 Gaming Chair is cheap taking into account the features it provides. Although the same price can get you a Kinsal Racing Chair, it lacks many features that are console-friendly. The chair is perfect for hardcore gamers and people who relish an immersive experience when watching movies or TV.
Pros
Very cheap

Ergonomic design

Wireless speaker system and connectivity
Cons
Difficult to carry around

Lacks HDMI port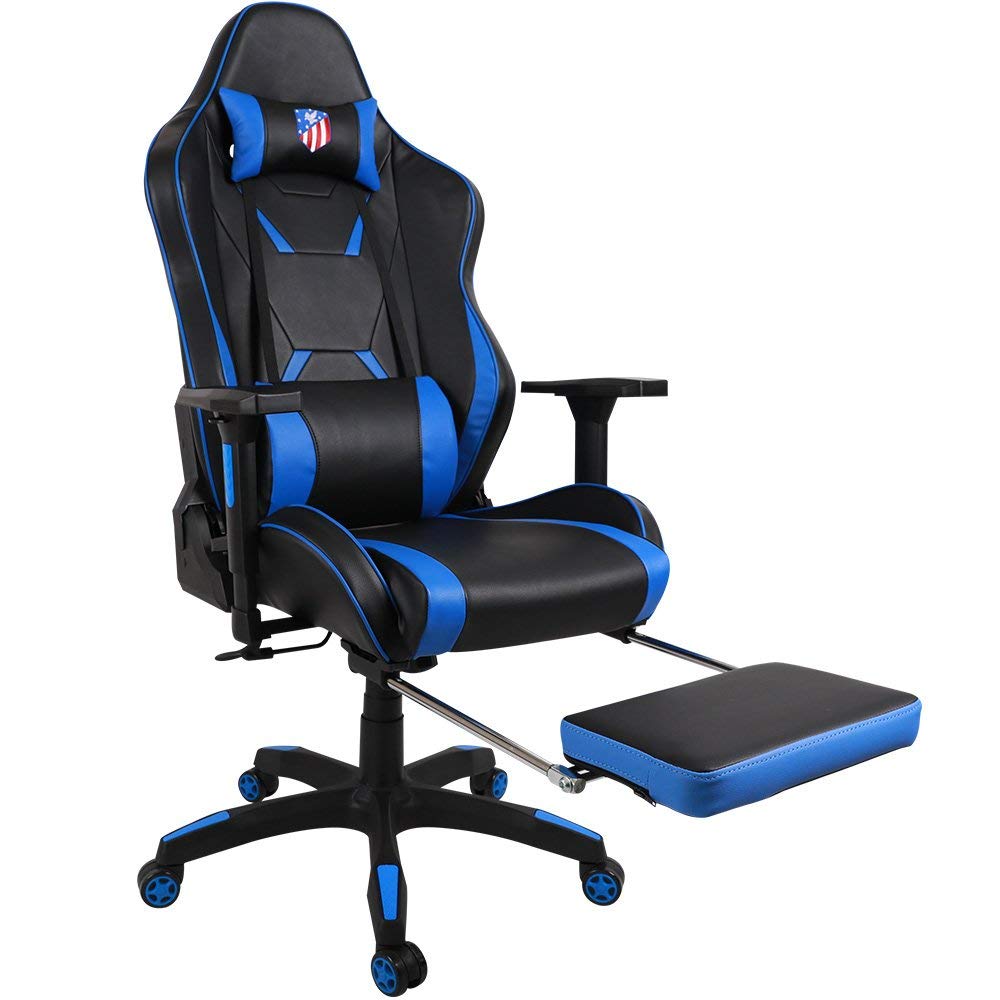 Why we like it:
This Kinsal Ergonomic chair is the ideal alternative to more expensive gaming chairs like DXRacer. It is a cheap reliable and durable gaming chair with stylish looks.
Editor's Rating:
Design features
Apart from its flexibility and ergonomic design, this chair has some unique features. Kinsal Ergonomic High-back Gaming Chair incorporates the signature bucket seat associated with Kinsal Racing chairs. The high, wide and slightly arched backrest snugly holds the sitter in place. The armrests do not intrude in your comfortable space. The wheels have a racing car style design.
The primary color of this Kinsal Racing chair is black and blue, although you can get the chair in different colors, all chairs feature the primary black color with other color accents. The chair is available in different options while remaining conservative enough for it to be used in various settings.
When purchasing an expensive gaming chair, durability for several years is a key concern, especially when shelling out more than $100. Kinsal has a flawless reputation for durability. The chair weighs 46 pounds and has a maximum load capacity of 280 lbs.
Convenient features
You can tilt the chair 1800 if you need to take a short nap. The lumbar support cushion and headrest help you to maintain a good posture.
This Kinsal chair comes with a unique ID card and number. This way, you can contact support and provide the chair ID to sort out the problem.
The wheels have hubcaps attached on them. The main purpose of the hubcaps is to ensure the wheels roll without any noise and to prevent scratching the floor. You can adjust the armrests easily by moving them up or down or changing their angle.
Overall
This professional and fashionable gaming chair is ideal for hardcore gamers since it is quite expensive. Also, it is perfect for office work.
The chair is reasonably priced without sacrificing features or the quality. Although it is a bit costly, that is expected with the brilliance of this gaming chair.
Pros
Ergonomic design

Full recline feature

Silent wheels

Unique ID

Why we like it:
This rocker-styled gaming chair is powerful and comfortable. It incorporates audio inputs and controls that can result in a unique immersive gaming experience.
Editor's Rating:
Design features
The design of the chair is rocker style. This allows you to easily rock forth and back when playing, which gives you some impression of mobility. It supports all gaming consoles like Xbox, Nintendo, PlayStation, etc.
The chair is very lightweight at 18.6 pounds. It can easily be folded and stored.
Convenient features
This gaming chair includes wired audio receivers. These allow you to immerse yourself in the gaming world through some unique audio emanating from the chair. The chair can also be used to enjoy music and movies.
The audio controls and headphone jack are attached next to your chair such that you never have to look for the remote. The chair comes with 2 wired receiver audio speakers installed.
The chair is a fantastic option even though it does not provide the same features as the top choice. Nevertheless, it gives you a steadfast gaming chair if you have a limited space. This chair also allows you to keep the volume low if you live in an apartment. The chair is ideal for gaming enthusiasts who enjoy games such as call of duty or Forza since it offers you enough sound.
Overall
This is the perfect gaming chair for beginners who want a cheap chair that is compatible with many consoles.
Cohesion chair has an exceptionally sleek and trendy design. The black seat has a smooth silhouette with a red accent that runs through the sides. This leaves the chair suitable for any room in the house. The chair has to be placed either on the floor or on the couch.
Pros
Very light

Very cheap

Includes 2-1 speakers

Lacks subwoofers

Does not support wireless connections