Cheap earbuds are easy to find. But most of them sound like crap. That's why it's difficult to narrow down your picks to the best cheap earphones without going through hundreds of them.
Instead of sticking to the next pair that you pick at the airport shop or the corner store, go with one of our top-rated earbuds for immersive listening.
Here, we are dedicated to bringing you tried and tested earbuds that fulfill the specs of what defines great earbuds from cheaply made models.
It's crucial that you draw the line in cheap since $5 earbuds are exciting cheap but it comes with poor sound quality. In our article, we are looking at earbuds that are at least $10.
Features to Consider in Cheap Earbuds
Audio Quality
This is the first obvious feature you will need to be considering before making a decision. You are looking to have clean, balanced audio with decent bass and treble. Watch out for earbuds that claim to have nice sound, but they have a reverb (echo) that is even more annoying.When looking at the bass, you will want to own earphones that can reproduce deeper tones more so, for hip-hop, RnB, jazz, techno, and other popular genres. These are earphones that can achieve lower frequencies that can reproduce the bass you need when listening to Florida Georgia Line deep vocals and the like.
Wireless vs. Wired Earbuds
Wireless earphones have been around from the time we started using smartphones, but wireless earbuds are still taking shape, and some of them are very expensive. With wired earbuds, you will have to deal with long cables as they have to connect to your device. You will want to look for a considerable length such that it won't tangle now and then.Wireless earbuds use infrared, radio frequency, or Bluetooth for transmission. Bluetooth is the most common technology for cheap earbuds as it is compatible with most devices. With the coming of Bluetooth 4.0 most wireless earbuds do not suffer connectivity issues and low sound quality.
Sound Stage
How do you like the sound of instruments as they are played in the music you love? Some earbuds will be intimate and confined while others are reproduced as they would on an open stage to give you a spacious feeling.It's all about personal preference with the soundstage.
Noise Cancellation and Noise Isolation
Noise reducing earbuds make a world of difference in helping to keep out sounds from the subway, bus, and noisy background. Active noise cancellation is expensive as it employs a small microphone to phase out the sound waves from your surrounding environment.But noise isolation is much cheaper as it is employed by sealing the ear canal so that you can only hear the sound of your music.
Fitting
The way earbuds sit in your ear contribute a lot to their comfort. For example, if you are working out in a gym or taking a run in your earphones, the constant movement may cause some of them to keep falling out which is the last thing you want.There are various options in the fit from over the year to choosing a soft or hard sleeve, and even going for a hook earbud. The essence here is to find the ones that apply to your ear canal.
Best Cheap Earbuds Under $25

Why we like it:
Best sound quality with a comfortable fit and is available in a variety of colors.
Editor's Rating:
Design Features
If you were to be handed the Panasonic ErgoFit RP-TCM125-V In-Ear Earbuds while blindfolded, they would easily pass for top-end models. This pair cultivates sound quality at its best that's why it manages to be a top pick.
Panasonic invests in well-balanced audio to provide crisp mids and highs that will not distort when the volume is turned up all the way. It can achieve low and deep frequencies to allow listening to bass-filled music with integrity. Since they have a wide frequency response, they are an excellent pick when you want to listen to recorded audio and live sound.
With Panasonic will be able to listen to music as well as receive phone calls thanks to the integrated mic.
Convenient Features
This model comes with a single in-line button remote for the controls. The remote and mic are compatible with most smartphones including iPhones, Android, and Blackberry devices. But they will not work with Nokia models.
We like the ErgoFit design as it is reputed for being comfortable. You are supplied with three sets of earpads which include small, medium, and large sizes. This makes them easy to wear by matching you canal to the most comfortable ear tip. What's more, the 3.6ft cord is easy to thread through clothes and backpacks.
Overall
Panasonic ErgoFit RP-TCM125-V In-Ear Earbuds are an inexpensive option that does not sound cheap at all. It can make calls which is one of the specs you will be looking for when streaming music directly from your smartphone.
Pros
Integrated mic and remote control

Supplied with a set of three different-size earpads

Bass output is maximized through sound isolation tips

Compatible with iOs, Android, and Blackberry devices

The 3.6ft cable is simple to thread through clothes and backpacks
Cons
The cable is thin which makes it tangle easily

Why we like it:
These earbuds have an IPX7 water resistance rating. They are impervious to moisture making them useful for running and working out. This is our recommendation for runners,
Editor's Rating:
Design
Everyone wants to workout with their favorite songs playing in their ears. But you don't want to be dealing with tangled cables and earbuds that will have their circuitry damaged after little moisture entry. With the Mpow Flame Wireless Earbuds, you can engage in all kinds of active exercise without worrying about the piece in your ears.
This model utilizes Bluetooth 4.1 for superior connection and sound quality. It has a decent range so you can keep your phone at a reasonable distance when working out. The tuned in CRS chip offers great music capability as you will be listening to spectacular bass and mellow, balanced sounds.
Mpow even indicates thta you may take some time adjusting to the blast of music that punches above its weight in class.
Convenient Features
The durability and comfort of these earphones are something to behold. With a nano waterproof coating, you don't have to mind sweat dripping down your ears as none of it will get to the delicate interior parts. They can withstand direct water splashes. You can also be caught out in the rain, and they will still perform as new.
When it comes to the fit, these earbuds strive to achieve a universal fit. You will get a set of different ear tips so you can choose the ones that fit snug and comfortably. The tips have a construction from memory foam that can adapt to the ear canal giving you a perfect seal and noise isolation.
With the ear hooks, you will be able to engage in intense activities without the tips falling off. You can even adjust the cord using the wire clamp at the back of the head. This way, you will always listen to your favorite tunes worry-free.
Verdict
Mpow has a done a great job in including the best features in an affordable model. You get crisp sound with excellent mids and deep bass. It allows you to workout in indoor and outdoor spaces without worrying about moisture and other intrusions.
Pros
IPX7 water resistance rating with nano coating

1.5 hours of charging gives 7-9 hours of battery life

High-quality ear hooks and memory foam tips

Protected from power surges at 12V cutoff

Bluetooth 4.2 wireless technology

Extended warranty of up to 18 months
Cons
Bluetooth pairing can take several trials the first time

Why we like it:
These earbuds have excellent sound reproduction. From the deep low frequencies to crisp clear highs of Zara Larsson, they use a state-of-the-art hand-crafted design for a remarkable listening experience. They are especially great for commuters.
Editor's Rating:
Design Features
When you want to keep your cool in crowded places, you will want something like the Symphonized 3.0. These earbuds employ noise isolation ear tips that fit comfortably in the ears. You will not juggle listening and hearing the hissing sound of the bus or the screeching of brakes from nearby vehicles.
Symphonized is keen to employ powerful sound technology to produce precision highs and supreme bass while the mids remain warm for all-around listening. It is great with jazz, blues, and classics. Although the bass is rich, it is not excellent with music that is heavily produced.
Nevertheless, we like that these earbuds come with an in-line mic and remote controller. It has a three-button control that is excellent for pausing music, toggling through tracks and answering calls.
Convenient Features
We are glad that Symphonized decided to use tangle-free TPE cable instead of the round thin ones that keep on tangling. This way, they will rarely get tied up on the seat corner as you get up from your seat pulling you behind in the process. It is a durable look if you don't plan to use them in rigorous outdoor activities.
Overall
Symphonized NRG 3.0 maintains a nice wooden look that is all about functionality. The earbuds are comfortable to wear for an extended period. They also have a mic and remote controller for the convenient answering of calls, pause/play, and voice control.
Pros
Achieves balanced bass for many sound genres

Uses a flattened cable for reduced tangling and durable performance

Express your style with distinct color options

One button mic and control for receiving calls and toggling through tracks

Natural, genuine wood produces powerful acoustics and crisp sound quality

Gold-plated 3.5mm jack

Six pairs of silicone tips for a custom fit
Cons
Cannot withstand intense outdoor activities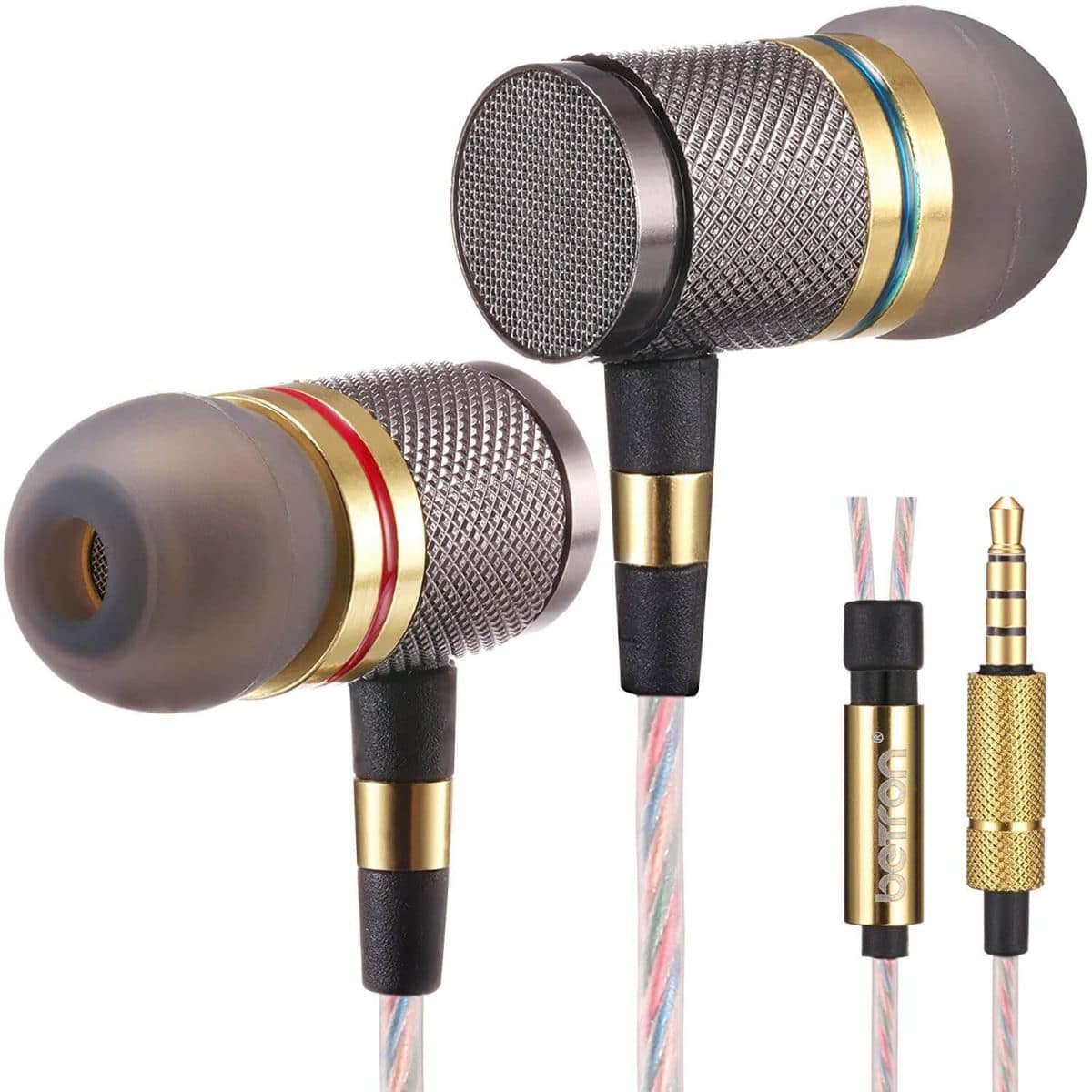 Why we like it:
This brand delivers clean high notes with clean mids and punchy bass. The earbuds perform well with music across all genres.
Editor's Rating:
Design Features
While some earbuds claim to have balanced and clean sound with nothing to show for it, Betron YSM1000 earbuds are ready to prove they are made to perform. With the 9.2mm neodymium driver, these earbuds can reproduce frequencies on a wide spectrum. This accounts for the natural mids and deep bass accompanied by crisp highs.
It is a perfect companion if your music preference spans throughout the genres where you love the song as long as it has great vocals and good use of the instruments. The metal earbuds perhaps play a unique role to ensure you are getting a blast of stereo with powerful bass.
The earbuds also utilize noise isolation technology using the rubber earbuds. You are also supplied with a pair of memory foam tips when you want more comfort. This addition is important when listening to podcasts over extended periods.
Convenient Features
Never lose your earbuds as you can store them safely in their rubber case. Betron ensures your favorite earbuds will always function as new since they will be safe from scratches and constant pulling if they were to tangle in storage.
What's more, you get a tangle-free cable to improve durability and to get you listening from any convenient place.
Verdict
Betron YSM1000 is a brand to reckon when going dirt cheap. They are an excellent pair that is replete with fantastic sound features. Only that, the lack of a mic and remote controller means you will not be receiving any calls or skip songs with them.
Pros
Gold-plated jack provides a seamless connection

Tangle-free cable for effortless use

Noise isolation technology

Comes with rubber carrying case

The bass-driven sound is great with any music selection
Cons
It does not have an inbuilt mic for receiving calls

Why we like it:
It has noticeably powerful bass and three EQ sound signatures. They maintain accurate connectivity owing to the integration of aptX Bluetooth technology for better sound.
Editor's Rating:
Design Features
When you decide to go wireless, it is better to do it with a renowned brand like AUKEY. The AUKEY Latitude Wireless earbuds are all the rave because of their aptX Bluetooth technology. If you have an aptX compatible device, you will be listening to CD-quality sound over Bluetooth.
aptX is used to improve sound over Bluetooth since Bluetooth sound is usually compressed which is not that great like it would over a wired connection. These earbuds include three EQ modes to help diversify your listening experience.
This brand utilizes EP-B40 magnetic wireless earbuds. The magnetic system keeps them on your neck to prevent falling out from the year when running, jumping, and performing intense aerobic exercises.
Convenient Features
You get up to 8 hours of playtime with these earbuds. You can listen to as many tracks as you would like over the day without worrying about charging your setup. You will also like that these earbuds have an IPX4 water resistant rating. They can keep out moisture like intense sweating but do not run with them in heavy rain because you may risk damaging the interior components.
Verdict
AUKEY Latitude seeks to fulfill good sound over Bluetooth via aptX technology. It is compatible with lots of device including iPhone and Android gadgets. Its noise isolating feature works efficiently to help achieve balanced sound over the three modes.
Pros
Includes cVc noise cancellation technology

Smooth and quality playback using aptX Bluetooth

Designed for a custom fit with three different size tips

Cable-free connection provides comfortable use for vigorous activities

Can withstand intense sweating and light rain showers
Cons
It does not support voice control
Best Cheap Earbuds Under $50

Why we like it:
It has a minimalistic form-factor without sacrificing sound quality. It is almost invisible when worn in the car, office, and anywhere else where you don't want to attract attention.
Editor's Rating:
Design Features
With FOCUSPOWER the ability to listen to podcasts and hands-free answering of calls on the go is achieved. This model promises flexibility and long battery life. You can use it for 4.5 hours with the volume turned all the way up while still being aware of your environment since it is a single piece for use in one ear.
FOCUSPOWER is compatible with all Bluetooth enabled devices. It can connect to Android smartphones, iPhones, iPads, iPods, mp3 players, etc. It can connect to two devices such that you can switch between songs and audio in either of the gadgets.
We like that it supports EDR (Enhanced Data Rate) Bluetooth. It connects fast and instantly with gadgets up to 33ft away. This way, you won't need to have your phone on you for seamless connection.
Convenient Features
If you have always disliked charging with cables, you will be glad to invest in the FOCUSPOWER. The earbud charges through magnetic inductive charging using its USB charger. You will get three ear tips for a comfortable fit. And it can fit in either ear to give you crisp sound to listen to audio recordings, music, audiobooks, etc.
Overall
FOCUSPOWER is all about sophistication in their small, nearly-invisible earbud. It is surprisingly cheap with decent phone answering capabilities. It may have distractions when you are answering a phone in crowded places. But it is expected with a wireless earbud in its price range.
Pros
Ergonomically designed to fit either ear

Fast connectivity via EDR Bluetooth

Can pair with two devices

4.5 hours battery life on full volume

Charges via magnetic inductive charging
Cons
It takes time getting used to one ear listening

Why we like it:
It is a brand of fun-sounding earbuds with emphasis on the bass. They function well for most music genres but not all of them. We also love them for the deep bass.
Editor's Rating:
Design Features
Most of us agree that music without bass is not all merry. That is why Sony one of the top performing brands in the production of music-related products has designed earbuds that have explosive bass to cater to most music genres.
These earbuds come with 12mm dome type drivers to deliver deep, powerful bass. These are high-energy magnet neodymium drivers that are at par with heavily produced music of the modern time. The bass duct construction remedies the loss of bass as it is concentrated in your ear by using sound isolation techniques.
With the inbuilt mic, you can return calls meaning you never have to touch your phone when using it in your desk at the office. The multi-function control button is a handy feature since it allows you to pause and play music as well as skip and pick tracks. It also supports use with the Smart Key Android app for more functionality.
Convenient Features
These earbuds come with four sets of hybrid silicone ear tips. You will be able to choose the ones that fit and seal your ear perfectly for complete noise isolation. The flat cable is a sure way of keeping tangles at bay since it is highly resistant to tangling. You also have a travel case for storage and safekeeping.
Verdict
These are thoughtfully-designed earbuds that express solid bass performance. The mids are somewhat recessed on some genres, but you can't fault the highs. It provides angled tips for comfortable wear while reducing noise when picking calls.
Pros
Flat tangle-free cable

12mm dome type drivers deliver strong bass

Hybrid silicone tips

It has integrated mic and multi-function controller

Can work with Smart Key App
Cons
They are not ideal for vigorous activities like running

Why we like it:
It ticks in terms of sophistication, aesthetics, and high-quality construction. It also comes with lots of accessories for all-round listening. These maybe one of the most durable earbuds here.
Editor's Rating:
Design Features
The AKG N20 earbuds are synonymous with legendary AKG sound. The audio quality is not just decent; it is great thanks to its world-class acoustic signature. It provides you with top quality audio that is achievable with earbuds its size.
You have unique aluminum housing with a durable fabric cable and silicone tips. The housing is quite grippy to allow smooth placement in the ear more so if you have wet hands. Looking at the aesthetics, you have a classy piece that is modern and chic because of the white and gold colors.
You will like that it covers a wide spectrum of frequencies and that it has a semi-closed back. This design allows it to have an enhanced bass that sounds great over a wide selection of genres.
Convenient Features
The most appealing thing with these earbuds is the accessory package. You get a flight adaptor and a cleaning tool to keep it sparkly. You are also provided with a carrying pouch to ensure it is safe in storage. This way, you will not have it stored together with other wired appliances and have its cable get tangled where it could distort in the process of untangling.
Overall
It is such a remarkable experience when using the AKG N20 earbuds. They have distinct sound with warm bass and highly-detailed mids. If you are a fan of jazz, classical music, and RnB, you can rest assured knowing you will enjoy using these earbuds.
Pros
Excellent aluminum housing

Fabric cord resists tangling

Silicone ear tips provide noise isolation

Semi-closed back enhances the bass

It includes a set of useful accessories (travel pouch, flight adaptor, and cleaning tool)
Cons
They do not isolate noise completely if you are looking to zone out from your environment entirely

Why we like it:
They take sound-quality a notch higher as they use a sophisticated design for natural reproduction of sound with punchy bass. They also stand out for premium design.
Editor's Rating:
Design Features
The SOUNDMAGIC E10 is still within our budget, but it comes with lots of thoughtful features for better sound reproduction. The 10mm neodymium drivers are in an all-metal housing. They do not come with additional weight as you will notice, you will never feel a nagging presence in your ears after using them for a whole day.
They have a semi-open back which is key to providing extra space for natural sound reverberation. The result is a rich bass that gives you immersive listening. You will like that even with the semi-open back, these earbuds will not pass out sound to the surrounding environment. You may hear some muffled sound, but your earphones will not transmit your music to anyone who cares to listen in.
Convenient Features
This model offers different three sized silicone rubber tips. They also have an additional pair of double flange mid-sized silicone rubber tips. If you regular fitting without intrusion, you will love going with the single flange pieces while if you want better sound seal, the double flange tips will perform a great job. They are the mark of sound-cancellation that you may be looking for in an affordable choice.
Verdict
These earbuds are a unique set that comes with premium components. They can produce vibrant bass tones as well as balanced mids. Don't expect the highs to be that great because they are not. But with a metallic housing, they are sure to serve for a long time.
Pros
Include a travel pouch and cable clip

Dynamic drivers for deep bass

Comes with noise-canceling tips

All-metal construction for improved durability

Semi-open back produces natural sound reverberation
Cons
The cable tends to tangle

Why we like it:
Produces well-managed sound associated with clear mids, smooth highs, and punchy bass. It has few features but is a definite pick for the remarkable audio quality. They are mostly recommended to students.
Editor's Rating:
Design Features
Sennheiser CX 3.00 is all about sound quality. It puts emphasis on the way you listen to music using 18-ohm impedance transducers. They provide excellent transmission of sound waves so that it reaches your ears as rich bass with crisp and accurate highs.
You get a finger-contoured housing that makes it easy to wear and keep these earbuds comfortably in the ear. There are four different sizes of ear tips to choose from. They fit universally for most people such that you will barely remember having them if you are walking in a busy street where chances of then being brushed out of your ears are high.
Since the ear tips fit snugly, they cancel out most of the noise to provide immersive listening with minimal directions. With its lovely, deep bass, you will be shaking your head and dancing to your favorite tunes as soon as they are well-fitted in the ears.
Convenient Features
It is fun to listen to music using these earbuds because of their high-quality build and sound reproduction. They use an elliptical design that is crucial in helping to deal with tangled cables. You will be able to thread them through your clothes and use them in noisy environments like the commute or school corridors.
Verdict
Sennheiser CX 3.00 is an obvious pick when looking for rich bass and overall excellent sound quality. It has an improved design with an elliptical cable that is tangle-free. With the well-fitting tips, they isolate lots of noise which allows use in busy places.
Pros
18-ohm impedance transducers for attacking bass

Slim tips fit snugly to isolate noise

Tangle-free elliptical cable

Durable housing

Two-year warranty

Different tip sizes
Cons
It does not have a mic for answering calls