Radio/Remote-controlled (RC) cars offer both kids and adults hours of fun. Whether you want an RC car for yourself or as a gift for your friend or your kids, there are many options you can choose from. Looking for RC car can be time-consuming but it shouldn't break the bank. In spite of the huge number of RC car models, not all are designed to last or even live up to or exceed your expectations. Making the right purchase decision especially when you have a limited budget can be challenging.
In this article, we will help you find the RC car that suits your needs. Regardless of whether you are looking for an off-road RC truck for your hobby or an indoor toddler toy, we've you covered. When it comes to budget, most people want to purchase a cheap RC car that delivers a lot of fun with little compromise. To help you find a decent RC car for your $50 budget, we have reviewed 10 best RC cars under $50 from as many models as possible you can purchase at this price point.
Features to Consider in Good RC Cars
RC cars fall in a special group that attracts different people from kids to RC enthusiasts who like to race their units. Regardless of preferences, there is a suitable RC car for everyone. The trick to choosing the best RC car lies in understanding what you or the person you will be gifting will do with it. Seasoned RC car enthusiasts usually go for cars and trucks with precise handling, high speed, and performance-oriented attributes. However, these elements complicate RC car maintenance and driving. These features may seem advantageous for everyone, but children will find such RC cars difficult to operate. Below are some of the features you look out for in RC cars.
Durability and ease to use
No one would like to see a gift RC car thrown into the bin after a few hours of use because of poor construction or low quality. It is recommended to opt for sturdy, battle-hardened RC cars that are durable. Go for waterproof chassis instead of models that have unnecessary plastic bits with flashy designs.
Remote features
The remote control is the interface to your RC car. So, make sure you choose an RC car with a remote that is suitable for your skill level. Pistol-grip style remote controls are the most sophisticated although they provide increased range, proportional control over steering and throttle. The sensitive features in these remote controls make the remote controls ideal for adults. Many RC cars can be controlled via Bluetooth. This provides endless possibilities as they can easily be controlled via smartphone or tablet. Bluetooth controlled RC cars offer more functionality such as the use of turn signals, the opening of doors and even streaming of music. However, they offer a lower range. RC cars for kids come with two-button controllers. Such simple controls simplify driving of RC cars for kids.
Part support
Regardless of the cost of the RC car, at some point, some parts will be damaged and will require spare parts. The tires may wear out, chassis may snap into two or a screw is lost. As you look for an RC car, consider this inevitable possibility. So, ensure any product you decide to purchase has replacement parts.
Battery life
RC cars will spend considerable time charging than you will spend using the. However, some have longer drive compared to others. Fortunately, testing battery life is easy and provides essential insights. If you are considering buying an RC car for kids or toddler, such cars are powered by batteries that pose dangers if ingested. Thus, children should be supervised when playing with these RC cars.
Best Cheap RC Cars 2020 (Under $50)

Why we like it:
This Prextex's RC car kit is designed specifically for kids. The Prextex RC police and race car kit is a great choice for introducing your toddlers to RC toys.
Editor's Rating:
Design features
This pack has two types of cars one of which is a race car and the other is a police patrol car. Each of these cars has 2 respective action figures that act as drivers. So, it comes with 2 race car drivers and 2 police officers. These action figures are removable which makes it easy to remove them when you want. The police patrol cars sound mimic actual police siren and horn that offer a touch of realism. The cars run 3 AA batteries and the remotes require 2 AA batteries to operate the RC cars.
Convenient features
The unit comes with easy controls to allow children to operate them easily. The package comes with remote controls cars that are suitable for children of all ages between 3 and 10 years old. Also, the remote controls are the perfect size for tiny hands of children, which makes it possible for kids to hold them as they operate the RC cars. The set comes with 4 plastic removable action figures. To hear the sounds and sirens of the cars, your toddler only needs to place the action figures in their respective cars. The police car makes a siren sound and the race car makes a raving engine sound. The remote controls of these cars are equipped with an additional 3 buttons that make different sounds besides the ones that control the movement of the cars.
Verdict
This is a great RC car for a young kid if you want to introduce your kids to RC car.
Pros
Produce realistic sound
Operates smoothly on tiles and carpet
Made from safe, high-quality plastic material
Cons
Battery runtime is not good
Lacks speed control

Why we like it:
EpochAir RC car packs a stronger punch in terms of performance compared to other RC car models in this price point.
Editor's Rating:
Design features
This RC comes equipped with 2 racing modes i.e. a wall and floor modes. It has a vacuum system that allows the car to climb and run steadily on flat surfaces including walls, windows, and ceilings. It has cool headlights and rear lights with an intelligent LED that automatically turn on. The headlights turn on when moving forward while the rear lights turn on when reversing. The left headlight and rear light turn on as the car turns left. The RC car is equipped with a rechargeable battery but the remote controller requires 6 AA batteries. The car is made from durable ABS material that ensures the car can withstand collision even if it falls from the ceiling.
Convenient features
Thanks to its air suction set and protection strip beneath the car, this RC car can generate an immense absorption force that can fight against gravity and climb vertical planes. This is essentially a wall climbing RC car. The car can perform swift angular maneuvers and even complete a 360-degree rotation clockwise and anticlockwise. To achieve this, you only need to press and hold the direction keys. For clockwise rotation, press and hold the direction keys on the right and to accomplish an anticlockwise rotation, press and hold the direction keys on the left. The charging cable is equipped with a built-in illuminating notification system that reports the power status of the car to the user. Bright light indicates the car battery is severely drained but as it charges the light gets dimmer to a point where it disappears completely when fully charged.
Verdict
EpochAir is a stunt RC car that is equipped with cool capabilities that let it climb walls and make 360-degree turns easily.
Pros
Equipped with adjustable gears
Uses an infrared remote control
Can climb walls
Convenient USB charging system
Cons
Flimsy exterior
Controller requires 6 AA batteries

Why we like it:
For BMW lovers, this RC car will be a treat for you. It is an exact copy of BMW i8 to a scale of 1:14 that is licensed by BMW.
Editor's Rating:
Design features
This RC car from RASTAR is modeled after the BMW i8 concept. It features a very detailed interior and a nice finish that every car enthusiast will love. The kit has authentic body styling and all its functions are fully electric. The car also has working headlights and horn. This includes the movement and turning of the car as well as the opening of the car doors. The car requires 5 AA batteries while the Remote Control requires 9V battery. The frequency of the remote control can either be 40.680MHz or 27.145MHz. The operating range of the RC car is 90 foot and it attains speeds between 7 and 10 miles per hour. The package includes RC car, remote control, user manual, and a telescoping antenna.
Convenient features
This RC car reaches the top speed of 10 miles per hour and comes with a very detailed interior. It is equipped with automatic turning functions as well as forward and reverse functions. Also, the car door can be opened using the remote control. The car is equipped with some extra treats for vehicle lovers. For instance, it has adjustable front wheel alignment, high gloss paint, working front, and rear spring suspension and working LED lights. The custom-made wheels have a rubber grip. This RC car is equipped with see-through doors and roof.
Verdict
This RC car will not only be a good gift for kids but also any person who fancies radio-controlled cars.
Pros
It moves fast on different surfaces
User-friendly
Long battery life
Cons
The doors open without pushing the open button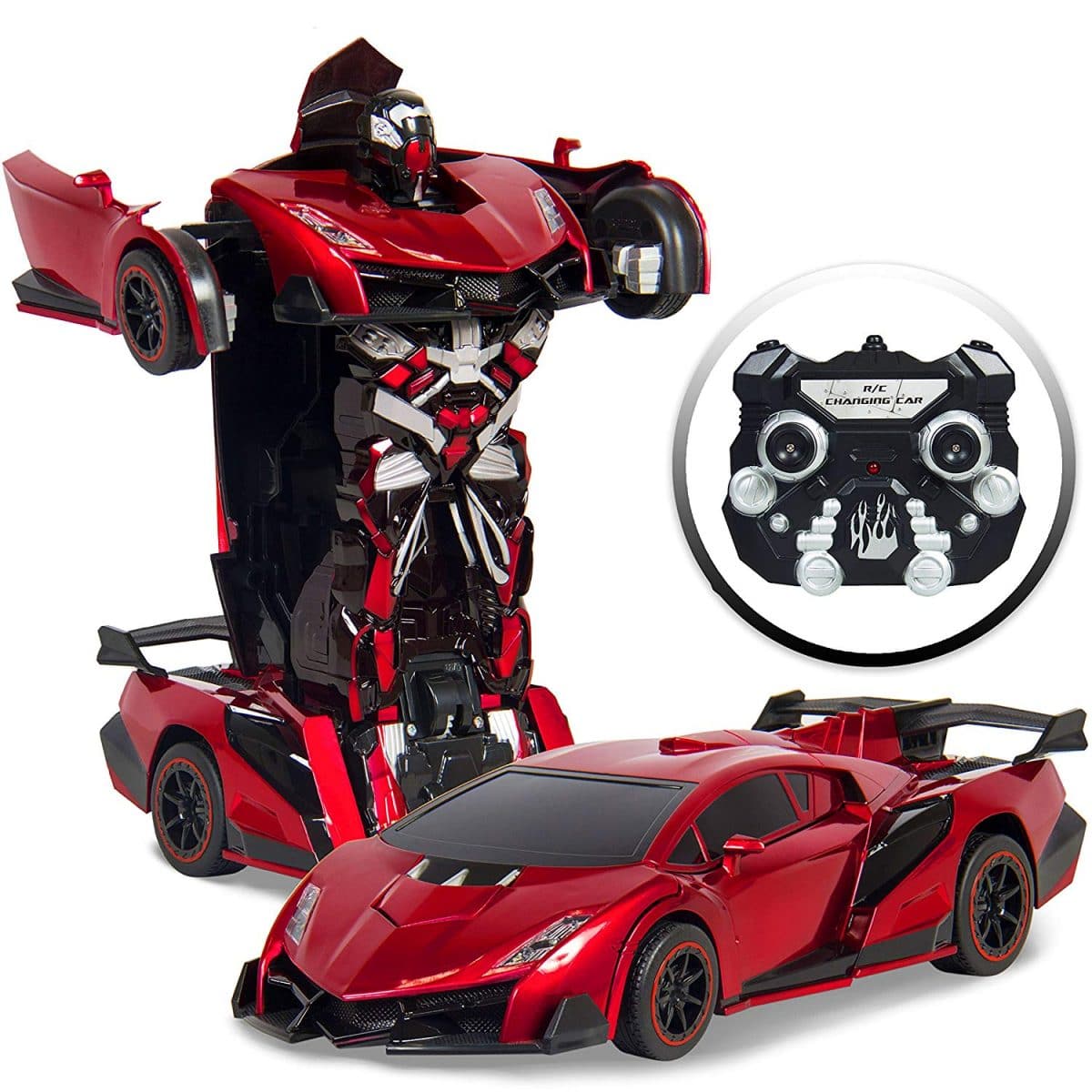 Why we like it:
This is a 2-in-1 toy that transforms into an entirely new toy with a push of a button. It will provide kids with more ways to play which ensure they will be kept busy.
Editor's Rating:
Design features
This RC car transforms into a fighting robot with a push of a button. Among the best features in this RC car include cool moves, 360-degree effects in speed drifting and engine sound effect as well as acceleration boosts. All these help you as you race around the battlespace when fighting your enemies in different forms. The controller offers you a control seat to the game. For instance, the remote control features a push button that transforms the RC car into a robot instantly. The car comes with a rechargeable battery but the remote control requires 2 AA batteries. It takes 45 minutes for the car to charge which can take it 35 minutes to drain during play. The maximum speed of this RC car is 9.3 mph.
Convenient features
The toy is equipped with realistic engine sounds and LED headlights. It can race around the battlefield as a car or a robot. This transforming RC car boasts of 3600 drifting capabilities and exciting acceleration and engine sound effects. The robot is ready for your command at a moment's notice. The robot has an ABS plastic frame and the 2.4GHz controller is equipped with various toggles for interactive play, such as forward/reverse movements, vehicle mode, robot mode as well as left and right movements. The car is suitable for kids 8 years and above.
Verdict
This RC car lets you race, defend and transform it into a powerful robot. Its features make it a good option if you want to introduce your children to robots and RC cars.
Pros
A user-friendly 2-in-1 RC car
Responds well to signals
Equipped with good effects
Cons
The battery does not last long when in use

Why we like it:
This offers the best value for money for lovers of futuristic battle racing system. It embraces a concept similar to transformers.
Editor's Rating:
Design features
This kit doesn't just offer cars but programmed robots for battle. The RC car can be controlled using a smart device. This a programmed battle robot that will take down opponents with several weapons such as flame throwers and plasma cannons. This RC car delivers pulse-pounding play through cutting edge technology and offers an experience unlike any other RC car in this category. Each car is equipped with an optical sensor, high-performance motors and dedicates 50MHz CPU that delivers precision maneuverability with a 1-millimeter accuracy.
Convenient features
This RC car kit uses advanced, futuristic technology. Each car is a self-aware robot that is propelled by a powerful artificial intelligence. The more you play with the car the better it gets. It has constant software updates that guarantee the gaming experience stays fresh and unlimited gaming options. You can customize your weapons and create new tracks. These robot cars are controlled through smart devices either running on iOS or Android. The car is equipped with various weapons among them flamethrower, radiant beam, and an afterburner.
Verdict
This robot RC car offers some pretty cool features that make it easy to pick the unit up but almost impossible to put it down. The Anki RC car is a great option for RC car enthusiasts who want a new challenge, especially in battle racing. To top it up it uses artificial intelligence that is equipped with a deadly strategy.
Pros
Offers many upgrade options
High-quality design and build
Easy to use software

Why we like it:
This is not just a good animal-like RC car for kids but also it combines 4×4 ruggedness and speedboat functionality.
Editor's Rating:
Design features
It features a powerful four-wheel-drive that makes its move fast on both land and water. The wheels are strong enough to move on land with ease and at the same time have an interesting feature that is useful on water. The car can run on pavement, sand, water, and dirt. The car is well built and has waterproof components and features easy controls that make it a good value for money. This RC car is designed with durability and safety in mind. It can withstand bumps and crashes and the rounded edges together with the pinch-free parts make the car more child-friendly compared to other models.
Convenient features
The convenience of using a full-function controller in your hands ensures the movement on different surfaces is only a touch away. The remote control runs on 49MHz and requires 2 AA or 3AA kind batteries for the unit to function properly. The deep groove tires help the car to move on the water fast. This RC amphibious car can use its 4×4 power to move over rocks and dirt and morph on the water. The treaded paddle-style wheels move the car on water as you steer your vehicle back on to land for exciting play on land. This RC car is appropriate for children above 5 years old.
Verdict
This is an animal-like 4×4 speedboat. Its powerful 4×4 capabilities ensure it is as good on water as it is on land. This high-performance RC creature can go anywhere with its powerful remote controller that makes exploration of any surface easy.
Pros
A firm and steady construction
Offers stability in different terrains
Responds even in tiny spaces
Cons
The controls are difficult for younger children

Why we like it:
If you fancy the action of high-speed police car chases, this KidiRace RC Police car is for you.
Editor's Rating:
Design features
The design of this RC car has a realistic feel to a police car that will excite kids with its sounds, lights, and emergency sirens. It is equipped with durable rubber wheels that give high levels of traction. This allows the car to make tight turning that adds to the fun of hunting down criminals. Also, the car can reach high speeds. The car comes with a high capacity rechargeable battery and a wall charger to power up your car and keep racing.
Convenient features
This a responsive car that comes equipped with a remote that is very user-friendly even for children. To ensure it is convenient, it also comes with a wall charger as well as rechargeable batteries that meet the industry standards on safety and quality. The car is made from quality materials that also guarantee durability even if the car experiences collisions. As well, the car has a smooth drive with little interference because of its 2.4GHz frequency technology. The technology lets you race six cars simultaneously without fear of any interference. Also, the response is very fast and offers a larger remote-control range. When fully charged, this RC car offers a maximum of 30 minutes of runtime. It comes with a 100% money-back guarantee to ensure if your RC car has problems the company will make it right.
Verdict
Getting your kid this RC police car will keep them occupied. The cop car can take a beating because it is made from high-quality materials that will make it outlive many collisions and bumps.
Pros
Good battery life
Charges using a USB charger
Made of good quality material
Cons
Batteries take long to recharge fully

Why we like it:
This RC car from SUBOTECH is among the best RC cars to get your kids started in RC car racing. It can run on different surfaces with ease.
Editor's Rating:
Design features
The RC car features a remote-controlled rear drive system. Its structure is stable which protects the car from abrasions and crashes. It is equipped with a remote control that makes it easy to race the car. The quality protection pack in this RC car uses dozens of screws. The materials used to build the car are of high quality and guarantee a long lifespan of the vehicle. This is possible since it protects the car from crashes and on rugged surfaces. The wheels are built from PVC material while the suspension springs help them. This guarantees that the wheels do not skid and ensure they are shockproof. The car can reach a maximum speed of 15 km/h and uses a 4.8/500MA nickel-cadmium battery. The controller uses 4 AAA battery. It takes two and a half hours for the RC car battery to fully charge and the runtime is 20 minutes.
Convenient features
The RC car features a superior control experience with its highly responsive steering and throttle. This RC car has a large control range that lets the car to go up to 165 feet (50 meters) away from the remote control. The four wheels in this RC car increases its stability and the 4 direction controls allow for actions such as turning right or left and forward acceleration as well as reversing capability.
Verdict
This is a good off-road RC car that will introduce your kids to RC car hobby.
Pros
Good built quality
Runs smoothly on different surfaces
User-friendly

Why we like it:
If you are looking for an inspiring replica of Ferrari La Ferrari, this RC car will amaze you.
Editor's Rating:
Design features
The design of this RC car resembles the real supercar and is bound to charm the hearts of future Ferrari drivers across the world. It has a top speed of 10 mph. The vehicle; however, lacks huge wheels that make it unpractical in rough terrain. It does not come with a rechargeable battery but rather relies on AA batteries with a set lasting around an hour. Nevertheless, the car comes with an amazing remote controller that resembles the steering wheel of the popular Ferrari. The remote-control range is 30 feet.
Convenient features
The vehicle has a beautiful surface finish that gives the plastic body a bright and shiny look. The visible engine details have a great look. Operation of the car is easy with a small, arrow-shaped forward and reverse buttons that offer full power forward and reverse. Also, the remote control is equipped with steering buttons that have a fixed 250 turning to the right or left. The toy is suitable for children 6 years and above.
Verdict
This RC is a remarkable bargain taking into account the quality on display. This is a basic RC car that does not come with proportional steering and throttle modulation is not possible. It can be driven in large open spaces such as parking spaces. Using this toy indoors may result in frustrations among adults and kids.
Pros
Good built quality
Easy to use
Cons
Not equipped with a rechargeable battery

Why we like it:
This RC car from Top Race is an off-road monster truck with oversized wheels and equipped with a crawling mechanism.
Editor's Rating:
Design features
The truck is made from a strong anti-collision structure. It is a 4WD car equipped with thick threaded anti-skid tires that lets the car to move on grass, gravel, muddy shallow water and dirt roads. The truck is built on powerful dual motors and excellent crawling technology and is equipped with shocks for a realistic driving experience. The car is built to last regardless of the crashes it may experience along the way.
Convenient features
The vehicle is made with powerful dual motors which are capable of crawling a long distance. Its design makes it shockproof and keeps the truck protected from crashing. This makes it easy to race on pebbles, rugged terrain and big rocks for your enjoyment. The powerful crawling technology together with the strong shocks allows this rock crawler to race or drive easily on rugged roads or off-road. The car can withstand a lot of rocky terrains and jumps. The waterproof feature on this vehicle makes it suitable for all terrains so you can make the car climb or crash for a long time.
Verdict
This rock crawler will let your kids experience the joy of driving a truck off-road. The Top Race RC rock crawler comes with the specs of a monster truck with its ultra-strong shocks, oversized tires, amazing crawling technology, and four-wheel-drive.
Pros
A great looking RC truck
It is waterproof making it a cool RC car
Can survive a lot of off-road conditions
Cons
Uses 7 AA batteries which too much for a toy
Guide to Buying the Best Cheap RC Cars
When shopping an RC car anything goes from monster off-road RC trucks that wreak havoc to speedy race cars that come wot their own in a racetrack. So, rest assured, there is fun no matter the choice of your RC vehicle. However, this does not mean that shopping for an RC car is a simple task. Taking into account the different sizes, specifications, colors, and types of RC cars, you will be forgiven for giving up altogether. Luckily, we have bundled the best RC cars you can get at a cheap price and within your budget of $50. Also, there are some cheaper options, for more details, check this video. Even at this price point, we have tried to accommodate some preferences and different levels of experience to make sure you can find something suits your needs within your budget. As you look for an RC car, there are several things you should look for to make sure you get the best RC car for your needs.
What is an RC car?
Radio-controlled car is a battery/gas propelled model car or truck that can be controlled remotely using a special transmitter. The popularity of RC cars has been growing among kids and adults. These RC cars come in different shapes each with its advantages and disadvantages as well as different driving modes. Some people prefer high-speed racers but also there are RC cars that drive off-road and crawl over rocks. RC cars can be expensive if you are looking for a high-power racer. So, before biting the bullet on a big purchase, ensure you know what you are going for. Start with good knowledge and you will find your best RC car in a very short time.
Types of RC Cars
There are several categories of RC cars. With the overwhelming array of RC cars, you first begin by understanding the different types that may suit your needs.
Off-road RC cars
Cars in this category are well suited for rough terrain that includes gravel or sand. These cars boast of bigger and raised tires compared to other types of RC cars. Vehicles in this category include:
Monster truck
Rock crawler/scaler
Buggy
Short Course Truck (SCT)
Stadium/Truggy Truck
These cars are great for driving in open areas and anywhere their tires can deal with.
On-Road RC cars
Vehicles in this category are designed to run on smoother, flatter grounds such as pavement. They are usually 4-wheel drive, come equipped with a suspension and can attain high top speeds. In case you value speed and skill above all else in your RC car, then you should consider this category. Cars in this category include:
Rally
Formula 1
Road Car
Pan Car
Touring Car (TC)
Also, if you are the kind who prefer to modify their RC Cars to meet their personal preferences, then consider this category.
Gas- Powered RC Cars
These as the name suggests rely on gas to run. If you intend to purchase a gas-powered RC car, ensure you are ready to have a regular fuel source.
Amphibious RC Cars
These RC cars are amazing. They can work on both land and water. However, driving them through a lake or submerging them is a bad idea. These cars are meant to be driven on shallow ponds and puddles that won't damage their electrical components.
Electric-powered RC Cars
These use electricity their source of power. They use either rechargeable batteries or replaceable AA or other types that let you drive them anytime. Also, this is the quietest source of power for RC cars.
Nitro-Powered RC Cars
The major source of power for these cars is a combination of nitromethane, oil, and methane. They require a constant supply of fuel for them to work.
Things to Consider in an RC Car
There are some things you need to consider before you into purchasing of an RC car. Regardless of whether you are an RC car enthusiast or just starting, an RC car that you will be proud of will require some considerations. Here is a basic rundown of what you need to look for in RC cars. For more details on what you can consider, check this video.
Type
RC cars are of different types but the most common ones are cars, trucks, and buggy. For an adrenaline junkie trucks are a great option while buggies are great for middle man and can be deceptively fast in the right hands.
Battery
Not all batteries deliver the same amount of power. Although you may not be versed with the RC lingo, batteries can be either Ni-Mh or Li-Po. Ni-Mh batteries tend to be less powerful and are easy to use for beginners. Li-Po batteries are more expensive, harder to charge and store but can transform you RC car into an adrenaline-spiking rocket.
Motor
Brushed motors are great for beginners although they are less powerful. Brushless motors tend to be more efficient, durable but come at a higher price.
2WD or 4WD
2WD RC cars are usually cheaper, easier to maintain and last longer. However, they are slower. 4WD RCs tend to be more stable, have great grip and appear more aggressive. 4WD RC models are great for adrenaline junkies.
Safety and performance
For RC car enthusiasts, performance is the most important factor to consider. The level of fun is determined by the performance of the RC car. Top speed, primary use, and handling are the main features that determine the RC car performance. Top speed is important because the faster an RC car is the more fun you will have driving in a dirt terrain, or launching off-ramps. Nevertheless, this is not applicable when buying an RC car for kids. To safeguard your shins, it is better to purchase a slower model for children.
Runtime
Runtime denotes the period an RC car will be used before it requires its battery to recharge. Several RC cars have a long runtime because their batteries have a huge capacity and more efficient drivetrain and motor setup. Generally, 2WD cars have a longer runtime compared to 4WD RC cars.
Budget
RC cars for hobbyists are very expensive. So, in this case, we are looking at the best RC cars that come at a bargain and are equipped with other accessories such as batteries and chargers among other accessories necessary to operate and enjoy using RC car.
Conclusion
So, regardless of whether you are a seasoned RC enthusiast looking for an efficient RC car for yourself or as a present to your children, take time to establish what you need. There are different types of RC cars to choose from. In this guide, we have highlighted the best cheap RC cars for your budget of $50. After establishing what you want, choosing what suits your needs is easy as you search for the best RC cars Available.