We love our gaming desktops. But when you can't take your gaming PC with you, it comes down to a portable gaming laptop.
Picking a gaming notebook can be as easy as choosing one with a high-end Nvidia graphics card and the latest Intel processor. But being on a budget complicates the process. You will have to balance the graphics performance with the processor.
After scouring the market, we have come up with a list of the Best Cheap Gaming Laptops. These models have strived to give you impressive gaming performance while making simple compromises that are not deal breakers.
Features to Consider in Cheap Gaming Laptops
Graphics Card
This has to be the first feature on your mind. You don't want to limit yourself just because you are on a budget. The essence here is to match your needs to your graphics card. That is, if you are only playing the classics, you can make do with GTX 960M, but they have significantly lower performance than GTX 1050.
A GTX 1060 falls in the budget category, but you will be getting close to the $1000 range. With GTX 1060, you get a laptop that can support the latest games for a year or two, and they are VR ready.
Processor
Pick a processor that will not bottleneck the graphics card. 6th, 7th, and 8th Gen Intel core processors are the norm even for cheap gaming laptops. AMD processors are only suitable for casual games since they will limit you moving forward when you want to experience more gaming.
Video Memory
The VRAM is another crucial feature to consider. This is the memory on the graphics card. Cheap gaming laptops start at 2GB and increase with the value of the graphics card up to 6GB. Acer Predator Helios is an excellent example of a cheap notebook with reliable VRAM of 6GB.
Memory
Most games will need 8GB memory while intensive games will require 16GB RAM. You will want a cheap laptop that can give you smooth switching between the game and other apps. If you can find a computer with upgradeable memory, the better it will be.
SSD
SSD is much better than HDD. This is because it is the wheels behind faster loading, quick booting, and reduced lag in gaming. We want to stick to 128-256GB as larger SSD increases the price significantly.
Model
Processor and Graphics
Memory and Storage
Screen Size and Weight
Resolution
Standout Features
Acer Predator Helios 300 Gaming Laptop
7th Gen i7-7700HQ
Nvidia GeForce GTX 1060 6GB

16GB DDR4 RAM
256GB SSD

15.6 Inches wide
5.95 lbs.

1920 x 1080 pixels IPS panel
It's VR ready
Dual fans for cooling
Expandable memory
Can sync with predator devices
Gaming keyboard

Dell 15.6-Inch Gaming Laptop
6th Gen Quad-Core i5-6300HQ
Nvidia GeForce GTX 960M

8GB RAM DDR3
256GB SSD

15.6 Inches wide
6lbs.

1920 x 1080 pixels IPS panel
802.11ac Wi-Fi
Three USB ports
Anti-glare IPS panel
10+ hours battery life
Dell cooling technology

MSI GL62M 7REX-1896US Gaming Laptop
i7-7700HQ quad-coreprocessor
Nvidia GeForce GTX 1050Ti 4G DDR5

8GB RAM
128GB HDD

15.6 Inches wide
5.29 lbs.

1920 x 1080 pixels NTSC panel
Nahimic 2 3D surround sound system
Cooler boost 4
NTSC full-color panel
Anti-ghosting key

Dell Inspiron i7577-5241BLK Plus
7th Gen i5-7300HQ
NVIDIA GeForce GTX 1060 6GB with Max-Q

8GB RAM
128GB SSD + 1TB HDD

15.6 Inches
5.7 pounds

1920 x 1080 pixels IPS panel
802.11ac Wi-Fi
Superior connectivity
Premium construction from magnesium alloy

MSI 7RDX-800 GL72M Gaming Laptop
i7-7700HQ
NVIDIA GeForce GTX 1050 2GB DDR5

8GB RAM
128gB SSD

17.3 Inches
5.95 pounds

1920 x 1080 pixels NTSC panel
Surround sound
Full-color range
Slim profile and low weight
Large display
45 anti-ghosting keys

Lenovo Legion Y520 Gaming Laptop
i7-700HQ
Nvidia GeForce GTX 1050Ti

16GB RAM
256GB SDD + 2TB HDD

15.6 Inches wide
5.29 lbs.

FHD 1920 x 1080 pixels anti-glare panel
2x2HW Harman speakers with Dolby surround sound
12% faster in-gaming performance
Large space expanding capabilities

ASUS TUF FX504 Gaming Laptop
8th Gen i5-8300HQ
Nvidia GeForce GTX 1050 2GB

8GB DDR4 RAM
1TB FireCuda SSD

15.6 Inches wide
5.07 pounds

FHD 1920 x 1080 pixels
Array microphone
Multiple ports
1.7Gbps Wi-Fi speeds
Active-dust technology

Acer Nitro 5 AN5 15-51-2HL Gaming Laptop
7th Gen i7-7700HQ
Nvidia GeForce GTX 1050Ti

8GB RAM
1TB HDD

15.6 Inches wide
5.95 lbs.

FHD 1920 x 1080 pixels IPS Panel
Long battery life
Lightweight design
Comfortable keyboard
Full HD display

HP 15.6-Inch Gaming Laptop
AMD A6-7310 APU
AMD Radeon R4 graphics

4GB Ram DDR3
500GB HDD

15.6 inches
4.74 lbs.

1366 x 768 HD glossy screen
Long battery life
Impressive multitasking
Led-backlit

Acer Aspire E15 E5-576G-5762
8th Gen i5-8250U
Nvidia GeForce MX150

8GB RAM
256GB SSD

15.6 Inches wide
5.2 lbs.

FHD 1920 x 1080 pixels IPS Panel
MU-MIMO technology
Dual-Band Wi-Fi long battery life
Dynamic bass and surround sound
Easy to upgrade RAM and HDD

Best Cheap Gaming Laptop Under $500

Why we like it:
It is a highly functional laptop for gaming on the cheap. It plays most games thanks to the GeForce M150 Graphics and Nvidia chip.
Editor's Rating:
Design
Acer Aspire E15 E5-576G-5762 yields features that not many laptops at the $500 mark can achieve. It is not super-sized in any way at only 15.6 inches wide. It provides you with fascinating imagery and visuals. It boasts a Full HD IPS panel with excellent color generation. It also comes with a DVD slot which many laptops have foregone in recent times.
It integrates a GeForce MX150 graphics card. It will by no means give you high frame rates on the latest titles, but it can manage above 30fps to warrant smooth gameplay. Its Intel Core i5-8250U also integrates its GPU such that your games can run on the Nvidia chip for better visuals.
Convenient Features
This laptop comes with a perfectly suitable keyboard for casual gamers. It has impressive actuation for a membrane keyboard. It also has a numeric keypad. This makes it easy for you to fulfill commands that require numbers. The keys are all smooth and responsive so that you can also use it for fast typing.
Although it does not have Thunderbolt 3 ports, it gives you VGA output. It has a type C USB port, a USB 2.0, two USB 3.0, Ethernet port, a headphone/mic jack, and an SD card slot. Expanding memory to 32GB is easy by unscrewing only three screws.
Verdict
This laptop does not come close to what a pro gamer may be looking to own. But if you only gather around the fire to play with friends, it will give you smooth gaming with the classics.

Pros
It can hit playable frame rates

Fast and smooth Full HD resolution

Long battery runtime

Smooth and responsive keyboard

8th Gen Intel Core i5-8250U

Nvidia graphics card
Cons
The fans are a bit loud when gaming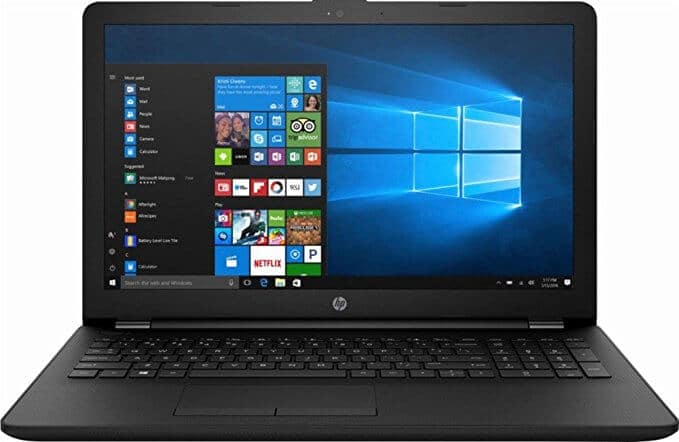 Why we like it:
It is ideal for classic games that do not require high-end graphics for clear visuals.
Editor's Rating:
Design
It is pretty hard to find a gaming laptop under $500 that actually performs well. HP put themselves out there with a laptop that is a good size and with decent color visuals. With an AMD Quad-core A6-7310 APU, this laptop can manage base speeds of 2GHz but it can turbo to 2.4GHz.
It is at par with most entry-level Intel processors. The processor handles the AMD Radeon R4 graphics card to drive the visuals for immersive gaming.
The 4GB RAM provides effective management of multitasking programs such that it can run casual games consistently. It can handle several programs smoothly so you should not expect any delays when playing titles that will come with your Windows 10 OS.
The built-in speakers have surprisingly good sound. Although you may be forced to use headphones while gaming; it gives you excellent sound for movies and music videos. We like that it has shared video memory to ensure you get solid visuals on your preferred games.
Convenient Features
Connectivity with this laptop is a notch high considering its price tag. You have a USB 3.0 for high-speed devices alongside two USB 2.0 ports. It also comes with HDMI output, headphone jack, microphone jack, and it has an SD memory card slot.
If you don't mind 2.4Ghz wireless connectivity, you will be impressed that it supports 802.11n Wi-Fi.
Overall
If you are a casual gamer, you don't need to invest in a high-end laptop to enjoy your favorites. You will be satisfied with the features showcased by this model.
Pros
Integrates an AMD processor and AMD Radeon R4 graphics for seamless performance

Long battery life

High-quality build with exceptional

A wide variety of connectivity ports
Cons
It cannot run graphics intensive games at high frame rates
Best Cheap Gaming Laptop Under $1000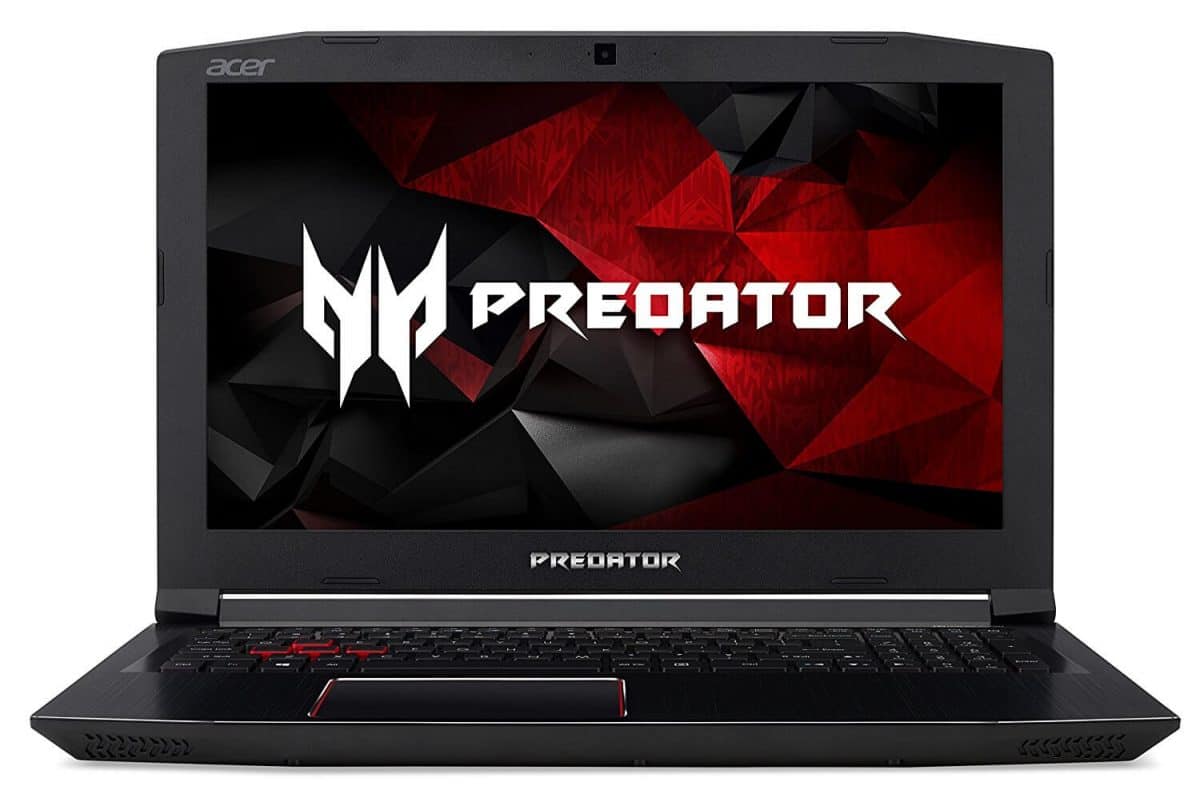 Why we like it:
This gaming laptop strikes a balance between affordability and beefy performance. It has all the great features to look forward in a notebook designed for extensive gaming.
Editor's Rating:
Design
Acer Predator Helios 300 features the latest gaming technology, but you don't have to cough lots of cash to own it. Its performance is over the top thanks to the 7th Gen Intel Core i7-7700HQ processor. It is the wheels behind the fast speeds and support for the latest graphics card.
With Nvidia's GeForce GTX 1060 with 6GB DDR5 VRAM, you are ready for a memorable gaming experience. It can crunch through all modern titles from Dynasty Warriors to God of War and Battlefield V. You can bet on it to bring you more wins and rewards if you are in competitive gaming.
The good thing about this gaming laptop is that you can take it to gaming competitions. That is if you are supposed to bring your rig. It has a 15.6-inch screen which brings its functionality into perspective. It has Full HD (1090 x 1080 pixels) resolution meaning all your games will have excellent color fidelity. It has no glare, and you can use it in the outdoors.
Convenient Features
This laptop comes with the PredatorSense gaming control panel. It lets you into a world of customized gaming settings which include personalized gaming features, controls for the system fan speed, CPU fan speed, and the system temperature.
The iron-lit keyboard is also designed for gaming since it is highly responsive with significant tactile feedback. It can sync with predator accessories such that you only need one software to allocate profiles to your games as well as create macros for your games.
Bottom Line
Acer Predator Helios 300 is a sure pick when it comes to great innovation and creativity. It is crafted to be slim, but it is complete with intuitive gaming features. If you are on a tight budget and are not willing to make any compromises, this is the gaming laptop for you.

Pros
Powerful i7 processor

It uses the latest Nvidia graphics card

It has dual cooling fans

Slim chassis is ready to go anywhere
Cons
The battery drains fast when gaming

Why we like it: It offers powerful gaming via Nvidia's GeForce GTX 960M Graphics. For the price, it has unparalleled performance when compared to its peers.
Editor's Rating:
Design
Dell does not have all the gaming bells and whistles in terms of the aesthetics, but it packs a punch when it comes to gaming. With the 6th Gen Intel Quad-Core processor, this gaming notebook is all in for fast processing of commands. It offers you fluid gaming while complemented by Nvidia's GeForce GTX 960M GPU.
You can count on this graphics card to give you reliable frame rates that get rid of choppy images and gaming actions that are out of play. The Full High-Definition IPS panel is your best bet at achieving smooth gameplay at this price range. At 1920 x 1080 pixels, it provides crisp, clear images and excellent contrast. This ensures that you do not miss an opponent in the shadows.
Dell uses their revolutionary cooling technology in providing the right gaming environment with this laptop. At the highest performance, it can overclock to 3.2GHz which can heat up your notebook and cause lag. Dell counters heating problems by using three exhausts with three large vents with 240 thermal pins, and two fans for cooling.
Convenient Features
No one likes to game with poor audio quality. Dell brings in Waves MaxAudio Pro which is a software that runs the best audio in high-performance speakers. It also includes a subwoofer so that you can bring in a cinematic theme in your gaming room.
At only 15.6 inches wide, this gaming laptop is ultra-portable. Pack it up and bring your favorite titles on the go. Better still, it has an incredible battery life of over 10 hours. This is more than we could ever ask for in a gaming laptop. Although you may see a reduced battery with extensive gaming that runs up your GPU, it is not going to die on you in the first 10 minutes of gaming.
Overall
Dell explores portability and convenience to give you a highly functional gaming notebook. It has decent graphics, excellent resolution, and a 6th Gen quad-core processor to run modern titles.
Pros
Nvidia GeForce GTX 960M Graphics (4GB DDR5)

256GB SSD and 8GB DDR3L

It has a slim profile for taking anywhere

Anti-glare screen with FHD resolution

10+ hours of battery life

Innovative cooling design
Cons
It lacks deep bass in the speaker system

Why we like it:
It spans the gaming world with sharp graphics for great visuals. It is engineered for the latest gaming apps.
Editor's Rating:
Design
When you want a laptop with great gaming features on a budget, MSI GL62M 7REX-1896US is a winner. It comes with an advanced graphics card; Nvidia's GeForce GTX 1050Ti with 4G DDR5. It can handle graphics-heavy games so it can run the show with the speed you need for most games.
Intel Core i7-7700HQ powers this laptop. It is the brains behind the action as it responds to your commands superfast. With 8GB RAM you will not have any problems playing Overwatch while you have opened multiple tabs on your internet browser. It is the remedy for smooth gaming in an cheap gaming laptop.
Convenient Features
7REX is equipped with a gaming style keyboard. It has 72g actuation, and the keys travel 1.5mm. MSI has done a decent job we can't say it's the best, but you will definitely have the edge over an opponent using a generic keyboard if you are into online gaming.
With Full HD resolution, 7REX utilizes an NTSC panel to give you more color range. Your games will now feel more real as characters will not be hiding in the shadows or you miss a shot because of a dull background. Complemented by Cooler Boost Technology, the laptop has seven heat pipes to keep your system cool.
Verdict
It is quite clear that MSI 7REX will win your heart if you are a beginner looking for a practical gaming laptop. It employs leading gaming technology to improve your gaming experience even if you are starting out.
Pros
Achieves high frame rates on the latest games

Cooler Boost 4 allows advanced cooling of the system

Gaming style keyboard

Gaming oriented graphics card (Nvidia GeForce GTX 1050Ti

Nahimic 3D surround sound
Cons
It may not be ideal for professional gamers

Why we like it:
It is all work-and-play with this laptop. It can fulfill the demands of pro gamers as well as everyday productivity. Its thin chassis allows it to win the hearts of any gaming hardcore.
Editor's Rating:
Design
Dell Inspiron i7577-5241BLK Plus is a laptop for every pro PC gamer who is looking for a slim notebook to take on the go while retaining all the sophisticated features of gaming. At this price tag, we don't expect an aluminum chassis, but Dell has done a nice job employing the magnesium alloy chassis.
This laptop features one of intel's proficient processors; i5-7300HQ. It is still high on gaming, giving you fast responses for faster gaming. You will find it exceptionally helpful since you can clock it at speeds of 3.5GHz. This way, you will not be at a loss when running multiple programs.
Its next-level graphics is perhaps the best thing it brings to the table. This gaming notebook is engineered to use NVIDIA GeForce GTX 1060 with Max-Q. It is a high-end graphics card that is slimmer allowing this laptop to be travel-friendly while providing fewer fps rates in gaming.
Convenient Features
Gaming laptops with Max-Q tend to heat up. But Dell has re-invented their Inspiron design to have a mono-hinge. This allows the display to be away from the exhaust airflow while the CPU and GPU take maximum space to avoid overheating.
The keyboard has 1.4mm travel distance, and it is backlit to give you more realistic gaming. You also get the convenience of Thunderbolt 3 transfer speeds and single-cable docking for your videos.
Overall
Beating the price-feature element provided by this gaming laptop is hard. It is a subtle system that is more on the gaming performance than on the aesthetics. The keyboard is a bit limiting, but we can't ask for more when you have all the other gaming specs on a reasonable price.
Pros
VR Ready graphics

Includes USB 3.1 ports and HDMI 2.0 plugs

802.11ac Wi-Fi and 100/1000 Ethernet ports

Mono-hinge design for superior airflow

Slim chassis contains a high-end graphics card
Cons
The speakers leave little to like about the sound; you will want to use earphones or computer speakers

Why we like it:
It is a full-featured model that is large but with manageable weight for taking with you.
Editor's Rating:
Design
MSI continues to impress with their entry-level gaming laptops. The 7RDX explores gaming productivity to help you enjoy all your favorite games. What we like most is the large screen as it gives a more realistic feel of gaming.
The matte black finish is primarily plastic. It can collect fingerprints, but this should not keep you from indulging in fast-paced action games. This is all thanks to NVIDIA GeForce GTX 1050 2GB DDR5. It pushes the pixels on the FHD screen to the limit giving you mind-boggling images.
With a quad-core processor, 8GB RAM, and 128GB SSD, you can store lots of games as well as play games that take advantage of more cores.
Convenient Features
As a gaming-centric company, MSI strives to give you incredible gaming features. This includes the NTSC panel with full-color fidelity. It has a high refresh rate which gets rid of choppy images. Not to mention, it brings in Cooler Boost 2 technology to allow heat dissipation and prevent throttle while playing demanding games like Overwatch.
Overall
This laptop looks sharp, not in a competitive way but its proficiency. The plastic-alloy exterior cuts its rating which is accounted in the low price. Nevertheless, you get vibrant pictures as it games on full HD. The large display is all thanks to the small bezel and small chassis that manages to keep the weight down.
MSI 7RDX is a solid gaming laptop. It has a sturdy build and exceptional features. It can easily replace your gaming PC with the convenience of portability.
Pros
Achieves high frame rates on a wide variety of games

Cooler Boost technology

High-powered graphics card

Impressive color range with no glare

Nahimic audio enhancer
Cons
Keyboard keys are not color-customizable

Why we like it:
It displays games in the highest-quality setting and manages to maintain a slim profile.
Editor's Rating:
Design
When you first hold the Acer Nitro 5 in your hands, it's not easy to tell whether it has an affordable price tag. The lid comes with a brushed metal finish which will not attract fingerprints. It has a red theme written all over it from the hinge to the keyboard and touchpad.
It is in close competition with the Lenovo Legion Y520 in terms of the build quality since it is a bit chunky. When it comes to gaming performance, this laptop uses Nvidia GeForce GTX 1050Ti. It is not the highest performing for modern games, but it will get through most titles that do not demand extra power from the GPU.
This model is a fine choice if you are keen not to game with dialed-down graphics. It also favors every gamer who wants a laptop to use for everyday office and business work. This is because is promises consistent gaming with a wide variety of games.
Convenient Features
This laptop gives you a good compromise between the battery power and the processor. If you want to retain both and enjoy most games, you will want to consider this notebook. With the i7-7700HQ it has a base clock speed of up to 2.8Ghz and it can turbo from 3.4-3.8Ghz. It showcases up to 10% better performance than notebooks with an i7-6700HQ core.
Acer Nitro 5 also has a CoolBoost Function. When turned on, the fans can work faster and at higher speeds to facilitate speedier cooling. By keeping your system at the ideal temperatures, you can game for longer at impressive speeds.
Bottom Line
The Acer Nitro 5 performs well as an everyday computer as well as for playing computer games. It has a decent keyboard and color reproduction, but it won't give you room to expand its possibilities.

Pros
Sleek and elegant design

Three type A USB ports and one Type C port

Ports are on the back to eliminate cables on the sides

Midrange refresh rate

Solid sound performance
Cons
The battery on this laptop is not removable

Why we like it:
It has a large memory and high potential for HDD space boost. It gaming features are proficient in providing impeccable gaming time.
Editor's Rating:
Design
Lenovo Legion Y520 showcases what a good gaming laptop entails. From the build quality to the gaming performance, it is every gamer's desire on a limited budget. Powered by Nvidia GeForce GTX 1050GTi, this laptop gives you superb frame rates for all-around gaming.
It is an ideal choice for first-person shooter games especially if you taking gaming to an online platform. This is because of a dedicated media engine. With the 7th Gen i7-7000HQ processor, you will have faster boot-up time and speedier-in game commands.
The 16GB RAM also comes in handy to improve gaming and web performance. Complemented by 256GB SDD memory which can be expanded with up to 2TB HDD, your gaming collection can be in one laptop.
Convenient Features
To keep your system cool, Lenovo Legion Y520 is engineered with fans and vents that are in close proximity to the processor and the graphics card. This results in faster heat dissipation which leaves your laptop cool and performing effectively game after game.
You can game at night or in low-lit rooms thanks to the red backlit keyboard. It has fast key actuation which results in great tactile feedback. With only 1.7mm travel distance, this keyboard assures you of accurate keystrokes to give you an edge in fast-action games.
Overall
Lenovo Legion Y520 provides you with 1080pixel gaming performance. It is slim and lightweight with remarkable gaming features. It has added speed with premium graphics for an even more immersive gaming experience.
Pros
Faster in-gaming performance

Smooth gaming with the latest graphics

Large storage capacity

Fast boot-up time

Powerful speakers (2x2W Harman speakers)

Supports Lenovo Nerve Center
Cons
The red backlit keyboard is not favorable for all players

Why we like it:
This gaming notebook is built to last. It has impeccable engineering to give it a longer lifespan than average gaming laptops.
Editor's Rating:
Design
ASUS TUF FX504 is one of the cheapest gaming laptops that falls at par with entry-level rigs. It can render games at capable frame rates. For games like Rise of the Tomb Raider, it can game at 42fps which is much higher than laptops at its price-range featuring 38fps for the same game.
Looking at the graphics, it comes with Nvidia GeForce GTX 1050 2GB. It is a great deal for most titles though it won't tear through intensive games that rip through pixels. For that, you may need a better GPU like the GTX 1060 on the Acer Predator Helios 300.
This laptop excels in audio seeing that is has loud speakers. You can hear every detail in a game when you are playing in a large room. This is especially true for Battlefield where you need to listen to your teammates as well as keep tabs on what is happening amidst of all the chaos.
Convenient Features
The durability specs on this device are all about the active dust management and thermal design. We can attest it's going to be performing as it is new for a decent time. It remains cool on light loads and only slightly heating up when you pick up gaming speeds.
You also have the ASUS Splendid Utility which allows you to adjust the screen's color temperature to suit your gaming lighting at night. As of the connectivity, this laptop provides you with two USB 3.0 ports, one USB 2.0 port, Ethernet jack, power jack, HDMI output, and a headphone jack. It also has a Kensington Lock slot.
Overall
If durability is one of the key features you are looking for in a gaming laptop, ASUS TUF FX504 has your back. The advanced thermal design alongside active dust management provides you with a cool and clean system for smooth performance throughout its life.
Pros
Can clock speeds up to 3.9GHz

GeForce GTX 1050 2GB proves useful in smooth gaming

8th gen processor provides fluid multitasking

20-million keystroke durability with scissor switches

Anti-dust technology and dual fans for cooling
Guide to Buying the Best Cheap Gaming Laptops
Buying a cheap gaming laptop means that you will be making sacrifices. From $800 to $1000, you can expect some high-end specs with a few compromises. But under $800, some components will be midrange and not comparable to high-end rigs.
This does not mean you can't get a solid cheap gaming laptop. Here are more features to consider before picking one.
Resolution
To have a clear picture and impressive gaming visuals, you will need to stick to 1080p laptops. Unless you are a casual gamer, 1080p laptops will give you nice imagery without being power-hungry. It's also important to stick to IPS and NTSC panels. This will ensure that you get anti-glare qualities at whichever angle you are viewing the screen.
The panel's refresh rate is another crucial factor. 60Hz is the most common on a budget. These allow most games to play at high frame rates equaling that of your display. You will rarely find a cheap gaming laptop with Nvidia's G-Sync which gives power to the graphics card for your laptop's refresh rate.
Slim Design
Portability is a key issue with gaming notebooks. 17-inch laptops are cumbersome and may never leave your desktop. 14-15 inches is the sweet spot as it is not so bulky to be a pain if you are in transit to your friends place every other day.
If you want a slim laptop but without sacrificing graphics, you may want to look for a notebook with Max-Q. This technology allows fitting of an even smaller graphics card to improve portability in gaming laptops.
Battery Life
A good gaming laptop will be one you don't need to have tethered at all times. After all, you want the convenience of gaming on the go. As such, it's always vital that you look at the battery configuration of your gaming notebook.
Note that a bigger battery equals more weight.
Cooling
Gaming is associated with heat. This means that your laptop will need a proper cooling solution. It works hand-in-hand with the cooling technology engineered in the notebook. Some models will have multiple fans and vents. They will give you fluid gaming without lags or the risk of being downclocked.
MSI gaming laptops showcase Cooler Boost technology. They can maintain proper gaming performance, prevent throttle, and keep the temperature down.
Keyboard
You might not get mechanical keys and full RGB lighting on a budget, but you definitely want high responsiveness and smooth entry of commands. Always look for decent actuation force such that you can feel more tactile. A squishy and mushy keyboard will make you second guess if you pressed a key.
Audio
Let's talk about sound. It is a feature we often ignore, but if you are playing games filled with chaos, you will need to listen to the background as well as what's happening in the front action. You will find this out when playing Counter-Strike and Battlefield.
Good audio gives you an immersive gaming experience such that you will have an advantage when playing multi-player games.
Connectivity
Online gaming is reliant on your connection. A poor connection will cost you wins. It is crucial to look for a laptop that can support intensive online gaming. This is line with 802.11ac Wi-Fi for smooth gaming. This protocol means that your notebook is 5G ready and it can bypass busy bands for faster transmission.
Final Words
We hope we have covered everything there is about picking the Best Cheap Gaming Laptop. We have chosen the most popular models that do not make major gaming compromises. We hope this guide helps your next pick to a solid gaming notebook.
You can expect remarkable graphics as well as capable processors. By choosing from one of these brands, you are guaranteed solid gaming on a budget.